You are here:
4K, 4:2:0/4:2:2:/4:4:4, 8/10/12 bit HEVC Decoder
HEVC video decoder IP core by ParaQum Technologies is an all-hardware, high performance video decoder which is easily integrable to complex FPGA based SoCs and supports upto 4K video decoding upto 60fos on Xilinx 7 series FPGAs. The core architecture is optimized for very low resource utilization. Coupled with low running frequencies, ParaQum HEVC Decoder IP core is ideal for deployment in mid-range FPGAs.

ParaQum HEVC decoder is world's first 4K real time HEVC decoder implemented on an FPGA with sub 150MHz clock frequencies.

High Efficiency Video coding (H.265) is the emerging video compression standard that promises 50% bit rate reduction compared to its predecessor H264. This IP core takes HEVC compliant elementary streams and outputs raw video. The decoder interfaces are AXI compliant for easy integration.
Features
Compliance standard – HEVC (H.265) Main profile Level 5.1

Max output bitrate - 4K@60fps / 1080p@240fps

Max input bitrate - 40Mbps

Input Format – H.265 Elementary streams

Output color format – YUV

Chroma formats - 4:2:0/4:2:2/4:4:4

Pixel Bit depth 8bits,10bits,12bits

Max frequency - 150 MHz

Device family support - Zynq 2000, Kintex 7, Virtex 7

Real time decoding with maximum latency of 8ms

Simultaneous decoding of up to 16 video channels (optional)

Supports All-Intra Low-delay and Random-access configurations

Optional AAC audio decoder
Benefits
Tailored architecture for efficient FPGA implementation

Ability to decode 4K HEVC on mid-range FPGAs

Low resource usage to enable SoC integration on single FPGA
Deliverables
FPGA proven synthesizable RTL/netlist source code

RTL test bench

Datasheet/Integration Guide

Verification Guide
Applications
Digital cinema

Broadcast contribution links
Block Diagram of the 4K, 4:2:0/4:2:2:/4:4:4, 8/10/12 bit HEVC Decoder IP Core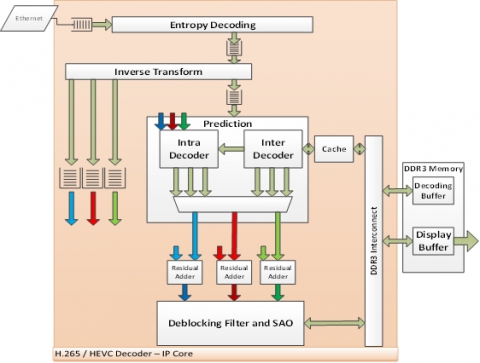 Video Demo of the 4K, 4:2:0/4:2:2:/4:4:4, 8/10/12 bit HEVC Decoder IP Core
This video demonstrates real time decoding of 4K 30fps using Paragon HEVC decoder on Xilinx Zynq ZC 706 FPGA. Paragon HEVC decoder is capable of decoding 4K videos up to 45 fps and supports bit depths up to 12.
4:2:0 , 4:2:2 and 4:4:4 profiles are supported in Paragon HEVC decoder
---
View 4K, 4:2:0/4:2:2:/4:4:4, 8/10/12 bit HEVC Decoder full description to...
see the entire 4K, 4:2:0/4:2:2:/4:4:4, 8/10/12 bit HEVC Decoder datasheet
get in contact with 4K, 4:2:0/4:2:2:/4:4:4, 8/10/12 bit HEVC Decoder Supplier