You are here:
ADS-B 978 MHz (UAT) Receiver
ADS-B (UAT) receiver offers a comprehensive solution for the reception of ADS-B Flight, Traffic and Weather information. Compatible with all FPGA and ASIC devices, the circuit has been design proven and field tested, clocking over 500 flight hours. The IP Core is fully configurable and can work with both IF and Baseband (I/Q) inputs. We are delighted to offer this IP Core together with our partners at Flight Data Systems Inc.

Features
Automatic Dependent Surveillance-Broadcast (ADS-B) Receiver

Compatible with the UAT specification operating at 978 MHz (RTCA DO-282B)

Accepts all ADS-B messages including: 'Ground', 'Long' and 'Short'

Reception of all weather and traffic information (e.g. FIS-B and TIS-B)

Decodes all ground uplink weather information (e.g. NEXRAD, METARs, TAFs, PIREPs, TFRs)

Configurable FSK demodulator permits both Baseband and IF operation

RF front-end can either use a direct-conversion (homodyne) or a superheterodyne receiver

Precision channel filter with programmable bandwidth settings maximizes SNR

Reed-Solomon decoder detects and corrects errors in the received packets

IP Core is provided as generic VHDL source-code suitable for all FPGA and ASIC types

Simple MCU interface supplies a constant stream of decoded Ground, Long and Short messages

System parameters may be modified on request (e.g. sample frequency, IF frequency, user I/O)

Fully design proven and field tested with over 500 accumulated flight hours

Note: we can also offer this core as a combined 978 MHz (UAT)/1090 MHz (ES) receiver
Benefits
Technology independent IP Core

Suitable for FPGA and ASIC

Supplied as human-readable source code

One-time license fee with unlimited use

Field tested and market proven

Any custom modification on request
Deliverables
VHDL source-code (or Verilog on request)

Simulation testbench

Examples and scripts

Full pdf datasheet

One-to-one technical support
Block Diagram of the ADS-B 978 MHz (UAT) Receiver IP Core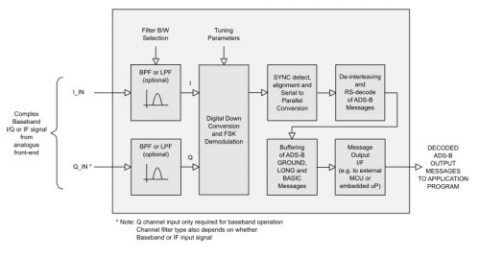 ---
View ADS-B 978 MHz (UAT) Receiver full description to...
see the entire ADS-B 978 MHz (UAT) Receiver datasheet
get in contact with ADS-B 978 MHz (UAT) Receiver Supplier