You are here:
AHB to APB Bus Bridge
The AHB to APB Bridge translates an AHB bus transaction (read or write) to an APB bus transaction. This is accomplished via two small state machines - one on the HCLK domain and another on the PCLK domain.

The AHB to APB Bridge acts as an AHB Slave, and an APB Master in an AHB/APB subsystem. Typically, the AHB to APB Bridge has its AHB interface connected to a Slave port on an AHB Channel module, and its APB interface connected to the Master port on an APB Channel module.
Features
Translates AMBA® AHB transactions to APB transactions

Low latency

Low Gate Count

Supports APB 2.0 and APB 3.0 Signaling

Independent HCLK, PCLK pseudo-synchronous clocks
Deliverables
Verilog Source

Complete Test Environment

AHB Bus Functional Model

C-Sample Code
Block Diagram of the AHB to APB Bus Bridge IP Core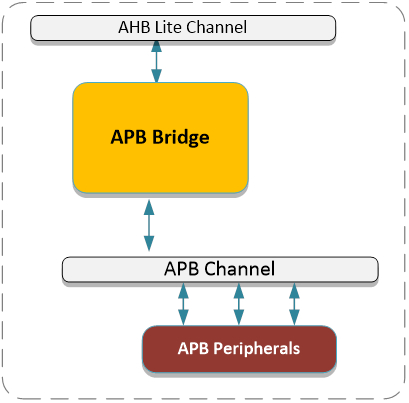 ---
View AHB to APB Bus Bridge full description to...
see the entire AHB to APB Bus Bridge datasheet
get in contact with AHB to APB Bus Bridge Supplier