You are here:
AI based Real Time 8K 60fps Super Resolution IP
OPENEDGESTM is a semiconductor IP provider for smart computing empowering Internet of Smart Things. Committed to democratizing artificial intelligence technology at the edge devices, OPENEDGES delivers IPs in two key technology areas of smart computing; highly efficient Artificial Intelligence Acceleration and high-performance Memory Subsystem including DDR Memory Controller & On-chip Interconnect IP.

ENLIGHT™ SR is a artificial intelligence based high quality upscaling HW technology supports real time upscaling up to 8K 60fps. ENLIGHT™ SR do not use any external DRAM and guarantee super small size with very low operating clock frequency. It enables to achieve very low power consumption. We also use our proprietary CNN architecture which is highly optimized for area efficiency.
Features
Super Resolution HW Accelerator

HW accelerator dedicated for SR network

Single Image Super Resolution

Zero usage of external DRAM

Properties

Low latency of ~60 horizontal (input) lines from input to first output

Very low operating frequency of 150MHz

(FHD to 8K 4x upscaling, 60fps)

FPGA Demo

Xilinx VCU1525 FPGA board

960x540  3840x2160 @ ~25fps
Benefits
Very High Video Quality

Very optimized for Real Time upscaling

Flexible 2x/3x/4x upscaling

Real time upscaling up to 8K 60fps

Ultra small size

Small size gates logic

No external DRAM requirement
Deliverables
IP Core RTL

Management SW

Simulation environment

Detailed Document
Applications
Automotive,

Application Processors,

Set-Top-Box,

Digital TV,

OTT,

Surveillance,

Projector

DSC
Block Diagram of the AI based Real Time 8K 60fps Super Resolution IP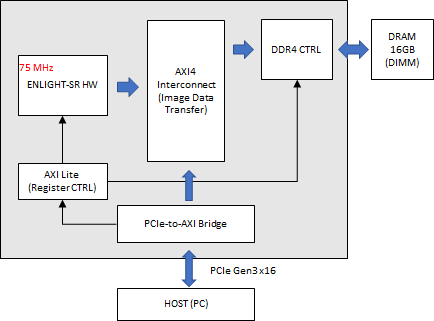 ---
View AI based Real Time 8K 60fps Super Resolution IP full description to...
see the entire AI based Real Time 8K 60fps Super Resolution IP datasheet
get in contact with AI based Real Time 8K 60fps Super Resolution IP Supplier