You are here:
AMBA AXI Data Prefetch Buffer
The Veriest AMBA AXI Data Prefetch Buffer Design IP provides a mechanism read / prefetch contiguous data over the AXI from a memory such as DDR SDRAM in which the data may need to be available immediately. The prefetched data is stored in a FIFO. The parameters for the source addresses are configured by way of the APB bus.


Features
Easy integraton

AMBA AXI 3.0 Compatible

Configurable FIFO depth

Programmable source address parameters

Automatic address calculation

Output data FIFO with configurable depth

Data input width 128-bit

AXI input data width 128-bit

APB interface for configuration and status

Software reset

Configurable AXI bursts

Event Interrupt Indication
Benefits
Low Gate Count

Low Power Consumption

Spyglass Lint Validated

Standards Compliant
Deliverables
Synthesizable Verilog RTL

Detailed block diagram and technical documents
Applications
General System on Chip Use
Block Diagram of the AMBA AXI Data Prefetch Buffer IP Core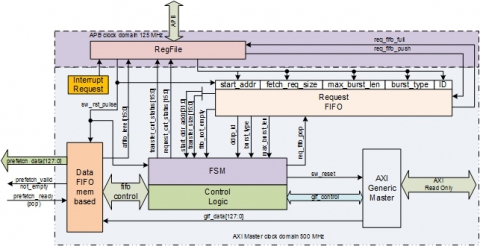 ---
View AMBA AXI Data Prefetch Buffer full description to...
see the entire AMBA AXI Data Prefetch Buffer datasheet
get in contact with AMBA AXI Data Prefetch Buffer Supplier