You are here:
APB Quad Timer (70050)
The Quad Timer Unit contains four fully independent 16-bit timer subsystems. Each timer subsystem can operate either in dual 8-bit PWM configuration, as a single 16-bit PWM timer, or as a 16-bit counter with two input capture channels.
Each timer subsystem contains an 8-bit clock prescaler, a 16-bit
up-counter, and two 16-bit registers. Each timer subsystem controls
two I/O pins that either function as PWM outputs or capture inputs,
depending on the associated timer subsystem's mode of operation:
In 16-bit PWM mode, the TIOx pins function as PWM outputs.
In dual 8-bit PWM mode, the 16-bit counter functions a two
independent 8-bit counters. The TIOx pins function as PWM
outputs.
In capture mode, the TIOx pins function as capture inputs.
In low-power mode, the clock is stopped. Read operations to
the timer subsystem return the current register value; write
operations are ignored.
There are four system-level interrupt requests, one for each timer
subsystem. Each system-level interrupt request is controlled by
four interrupt-pending flags, each of which offers a separate
enable/disable bit.
Features
Software-configurable to offer up to:

Eight fully independent 8-bit PWM channels

Four fully independent 16-bit PWM channels

Eight 16-bit input capture channels

Four timer subsystems, each of which contains:

One 16-bit counter

Two 16-bit capture/compare registers

One 8-bit fully programmable clock prescaler

Each timer subsystem can operate in the following modes:

Low-power mode (all clocks are stopped)

Dual 8-bit PWM mode

16-bit PWM mode

Dual 16-bit input capture mode

Eight I/O pins, each of which can function either as:

PWM output with programmable output polarity, or

• Capture input with programmable event detection and timer

reset

• Flexible interrupt scheme with:

• Four separate interrupt requests

• 16 interrupt sources, each with a separate interrupt-pending

flag and interrupt-enable bit

• Debug support: Freeze or suspend Versatile Timer Unit activity
Benefits
The host interface of the Quad Timer Unit complies with the

AMBA 2 APB protocol. Control registers within the Versatile Timer

Unit provide CPU control of timer mode, I/O pin functions and

polarity, clock prescaling, PWM period and duty cycle, enabling/

disabling/clearing interrupts, and starting/stopping the counters.

Status registers indicate timer/capture values and interrupt status.

There are eight off-chip interface signals, TIO1–TIO8, two for each

timer subsystem. To reduce chip-level pin count, the TIO1–TIO8

pins can be shared with other on-chip functions through a General

Purpose I/O Controller.
Deliverables
Synthesizable Verilog source code

Integration testbench and tests

Documentation

Scripts for simulation and synthesis with support for common EDA

tools
Block Diagram of the APB Quad Timer (70050) IP Core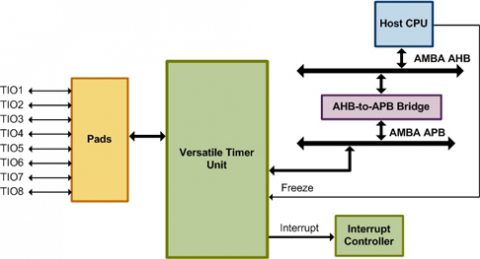 ---
View APB Quad Timer (70050) full description to...
see the entire APB Quad Timer (70050) datasheet
get in contact with APB Quad Timer (70050) Supplier