You are here:
ARINC 818-2 IP Core
iWave's ARINC IP core is ARINC 818–compliant, which can be implemented on any transceiver based FPGA. It can be used for both transmit-and-receive applications. This core has flexible user interface, allowing for various video parameter configuration. This IP core supports Line Synchronous Mode.
Features
Streaming Interface used as Video TX and RX interface.

Video Input Format Supported.

Resolution depends on the FPGA transceiver speed used for implementation

For SXGA (1280x1024@60Hz) resolution, required data rate is 2.5Gbps

Pixel Format supported.

Monochrome

RGB

YcbCr

RGBA

Pixel Aspect ratio supported.

1:1

1:1.2

1.2:1

NTSC (approx 8:9)

PAL (16:15)

Frame Rate supported.

15fps

20fps

24

24 * 1000 / 1001

25 (PAL)

30

30 * 1000 / 1001 (29.97 NTSC)

60

50

60 * 1000 / 1001 (59.94 NTSC)

50 (VESA DMT)

60 (VESA DMT)

75 (VESA DMT)

85 (VESA DMT)

50 (VESA CVT)

60 (VESA CVT)

75 (VESA CVT)

85 (VESA CVT)

Pixel Table Number supported

8-bit Components, four components per transmission word

Pixel Array Order supported

Left to Right, Top to Bottom

Line Synchronous Mode supported

32-bit Full Image CRC supported

Following are user configurable parameters

No. Of rows

No.of Columns

Video Format Code

Pixel Aspect Ratioe

Video Frame rate

Color Information Code
Benefits
Design consists streaming interface and hence it can be used for high throughput video transfer.
Applications
Video and image processing in Aerospace applications.
Block Diagram of the ARINC 818-2 IP Core IP Core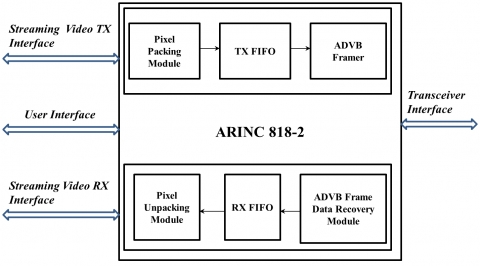 ---
View ARINC 818-2 IP Core full description to...
see the entire ARINC 818-2 IP Core datasheet
get in contact with ARINC 818-2 IP Core Supplier