You are here:
Arm Cortex-A73
The Arm® Cortex®-A73 is the most-efficient high-performance processor that implements the Armv8-A architecture. The Cortex-A73 processor can be paired with the Cortex-A53 or Cortex-A35 processor in a big.LITTLE configuration for mobile applications. The Cortex-A73 processor cluster has one to four cores, each with their L1 instruction and data caches, together with a single shared L2 unified cache.
Features
Efficient Out-of-Order Pipeline - Microarchitecture performance and power improvements to maximize efficiency of the 2-wide out-of-order pipeline. Achieve highest peak and sustained performance at frequencies up to 2.8GHz in advanced process technology for Premium smartphones.

State-of-the-art Branch Prediction and Power-Optimized Instruction Fetching - Advanced sophisticated prediction algorithm with power-optimized 64kB instruction cache.

High-performance Memory System - Full out-of-order dual-issue load/store capability combined with up to 64kB data cache. Enhanced data prefetching with automatic complex pattern detection.

Optimized mobile and consumer feature set - Combined with Cortex-A53 or Cortex-35 in big.LITTLE configuration using Arm CCI interconnect for high scalability.
Benefits
Highest performance in mobile power envelope. Up to 30% higher performance than previous generation.

Up to 2.8GHz frequency for highest peak performance.

New levels of sustained usage for the best user experience. Up to 30% increase in power efficiency.

Smallest premium Armv8-A processor ever. Premium CPU under 0.65mm² per core.

This processor can also be implemented in an Arm big.LITTLE™ configuration, for example with the Cortex-A53 or Cortex-A35 processor.
Applications
Premiere to mid-range smartphones

Digital TV

Over-the-top and set-top box devices

Large screen mobile devices

Home networking

Automotive infotainment
Block Diagram of the Arm Cortex-A73 IP Core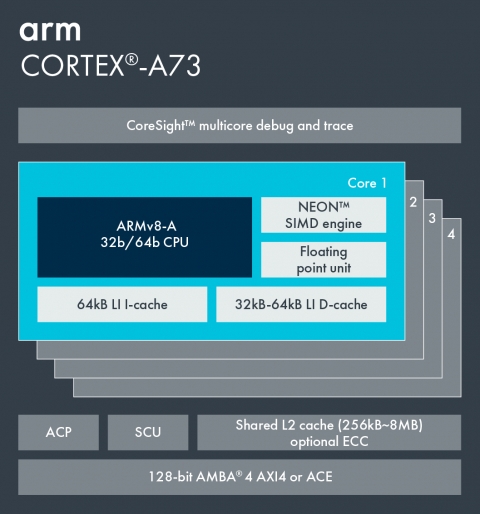 ---
View Arm Cortex-A73 full description to...
see the entire Arm Cortex-A73 datasheet
get in contact with Arm Cortex-A73 Supplier