You are here:
Arm Cortex-A75
The Arm® Cortex®-A75 - latest and highest-performance application CPU delivering ground-breaking performance and market-leading power efficiency across a wide range of applications.
The Arm Cortex-A75 CPU is built on DynamIQ technology, enabling new levels of scalability and responsiveness for your advanced use cases.
The processor is broadly applicable from cloud to edge, providing improvements in performance, efficiency, and architecture over its predecessors, the Cortex-A72 and Cortex-A73 processors. With significantly improved integer performance, and substantial enhancements in floating point and memory workloads performance, the Cortex-A75 processor is the most powerful Cortex-A processor to date.
This additional compute capability, combined with improvements for machine learning and other advanced use cases, will enable demanding applications to run more smoothly and provide a new baseline for even more complex workloads to be developed.
Benefits
Broad market use - With markets ranging from edge to cloud, the Cortex-A75 processor is broadly applicable, and brings new levels of performance, at uncompromized efficiency, to a wide variety of use cases. The processor, in conjunction with the DynamIQ Shared Unit (DSU), supports a configurable feature set that allows Cortex-A75 CPU to cover smartphones, intelligent home devices like DTV, servers, and automotive applications.

Ground-breaking performance - The Cortex-A75 processor provides a significant boost in single-thread performance using a fully out-of-order, variable-length, and symmetrical three-way superscalar pipeline. With over 20% more integer core performance and high-performance NEON and FPU engines, the Cortex-A75 processor provides a significant performance boost compared to the Cortex-A72 and Cortex-A73 processors. The CPU also provides additional performance for advanced workloads, like machine learning.

Market-leading efficiency - Efficiency remains one of the most important key metrics for devices where long battery life and user experience are key. Cortex-A75 processor delivers efficiency levels used in devices with Cortex-A73 processor today. This market-leading efficiency allows you to unleash advanced performance, leading to faster devices and better user experiences.

Brand new memory sub-system - The Cortex-A75 processor is built on DynamIQ technology, and as such, is able to leverage many benefits including access to the shared cluster L3 cache, support for asynchronous frequencies, and potentially independent voltage and power rails for individual CPUs or groups of cores. The Cortex-A75 CPU also uses a private L2 cache per core with half the latency of traditional high-performance processors.

Latest architecture - By supporting the Armv8-A architecture, the Cortex-A75 processor provides a broad ecosystem from tools to OS and applications support. Additionally, the CPU supports extensions to the architecture to enhance current application and add new use cases. Support includes cache stashing, atomic transactions between agents, cache way allocation and prioritization, or advanced RAS (Reliability, Availability & Serviceability) capabilities.

DynamIQ big.LITTLE - The Cortex-A75 processor supports the use of big and LITTLE processors in one cluster using DynamIQ technology. Combined with the Cortex-A55 CPU, Arm s most efficient LITTLE processor to date, the Cortex-A75 CPU can extend its dynamic range for thermally limited devices. DynamIQ also enables new combinations, for example 1+7, with great area efficiency, which will enable new upgrade paths for mid-range devices.
Applications
Servers

Automotive

Embedded

Smartphones

Intelligent devices in your home

Large-screen compute
Block Diagram of the Arm Cortex-A75 IP Core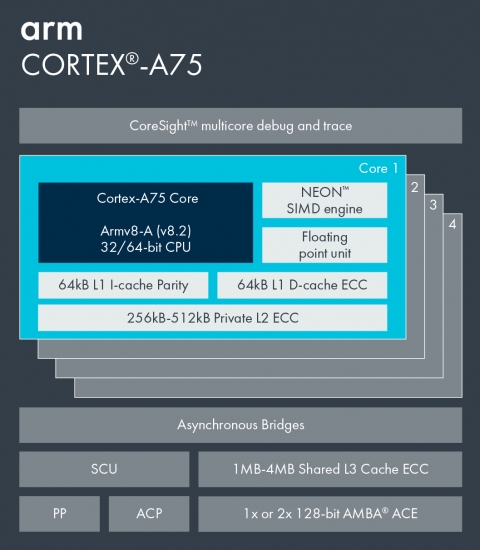 ---
View Arm Cortex-A75 full description to...
see the entire Arm Cortex-A75 datasheet
get in contact with Arm Cortex-A75 Supplier