You are here:
Arm Cortex-M33
The Arm® Cortex®-M33 is the first feature rich implementation of the Armv8-M architecture.

The Cortex-M33 was developed to address all embedded and IoT markets especially those that require efficient security or digital signal control. TrustZone for Armv8-M is the foundation of security for all embedded applications. The processor has many optional features including DSP, a coprocessor interface, memory protection units and a floating-point unit. The optional coprocessor interface opens the door for customisation and extensibility to further decrease the power consumption of the system in the presence of frequent compute intensive operations. The Cortex-M33 achieves an optimal blend between real time determinism, energy efficiency, software productivity and system security which opens the door for many new applications and opportunities across diverse markets.
Features
TrustZone for Armv8-M - A foundation for security for embedded devices. TrustZone offers software isolation to code, memory and I/O while retaining the requirements of embedded applications: real-time deterministic response, minimal switching overhead, and ease of software development.

Co-processor interface - A dedicated bus for extending the operation of the processor with tightly coupled co-processors to handle frequent and compute intensive operations in an ecosystem friendly manner. The interface supports up to eight accelerators and takes into account the security state of the co-processor.

SIMD, saturating arithmetic, fast MAC - Powerful instruction set for accelerating DSP applications, built right into the processor. A highly optimized DSP library built using these instructions is available free-of-charge from the Arm website (CMSIS Library).

Memory Protection Unit (MPU) - Software reliability and system security improves when each module is allowed access only to specific areas of memory required for it to operate. This protection prevents unexpected access that may overwrite critical data. Each of the security zones can have a dedicated MPU that may be configured with a different number of regions.

Integrated Nested Vectored Interrupt Controller (NVIC) - There is no need for a standalone external interrupt controller. Interrupt handling is taken care of by the NVIC removing the complexity of managing interrupts manually via the processor.

Powerful debug and non-intrusive real-time trace - Comprehensive debug and trace features dramatically improve developer productivity. It is extremely efficient to develop embedded software with proper debug. It is extremely efficient and productive to develop embedded software with proper debug.
Benefits
Provide a security foundation, offering isolation to protect valuable IP and data with TrustZone technology

Extend the processor operation with the tightly coupled co-processor interface.

Simplify the design and software development of digital signal control systems with the integrated digital signal processing (DSP) instructions.

Accelerate single precision floating-point math operations up to 10x over the equivalent integer software library with the optional floating point-unit.

Achieve industry-leading system energy efficiency using the integrated software controlled sleep modes, extensive clock gating, and optional state retention
Applications
Audio processing

Connectivity

Smart home/enterprise/building/planet

Sensor fusion and wearables

IoT

Single processing such as power and motor control
Block Diagram of the Arm Cortex-M33 IP Core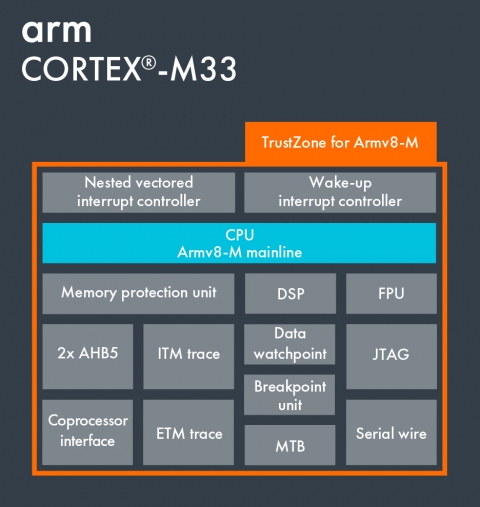 ---
View Arm Cortex-M33 full description to...
see the entire Arm Cortex-M33 datasheet
get in contact with Arm Cortex-M33 Supplier