You are here:
ATAPI Host Controller
ATA/ATAPI Controller core provides interface between a host system and a ATA/ATAPI device. This core can be used to control ATA/ATAPI memory devices such as hard-disk drives CD or DVD players and etc.
.
Features
Supports interface between processor and hard disk.

Supports parallel ATA/ATAPI-6 mode of operation.

Supports ATA PIO mode 0,1,2,3, and 4.

Supports ATA Multi Word DMA mode 0, 1 and 2.

Supports ATA UDMA mode 0, 1, 2, 3, 4, and 5.
Benefits
Desktop computers and set-top-box systems uses ATAPI drive for data storage
Deliverables
Applications
Control Memories like HDD, CD/DVD etc.

Data acquisition systems

Data storage for PC and notebooks
Block Diagram of the ATAPI Host Controller IP Core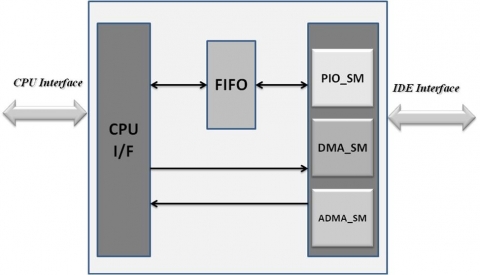 ---
View ATAPI Host Controller full description to...
see the entire ATAPI Host Controller datasheet
get in contact with ATAPI Host Controller Supplier