You are here:
Automotive Ethernet PHY
CT25204 is a complete physical layer for Open Alliance BroadR-Reach® and IEEE 802.3bw Ethernet communication within the car.
It consists of an analogue hard macro and an RTL code for the digital, including PMA, PCS, MII and MDIO register functionality.
It includes all the feature of Open Alliance BroadR-Reach® and IEEE 802.3bw including link status and quality monitor.
Link training time is controlled well below the limits imposed by the standard even in noisy environment.
The detection of open/short circuit on the line with accurate distance-to-fault reporting is implemented on the PHY.
Clock is generated with an internal VCXO or can be externally provided.
It uses a few of external components.
IEEE 1588 PTP support is under development.
The IP can be interfaced with standard MAC Controller via MII/RMII Interface.

Canova Tech is BroadR-Reach® licensed by Broadcom Corporation.

Features
OABR V3.2 Compliant

IEEE 802.3bw Compliant

IEEE 1588 PTP Support under design

Reduced number of external components

Standard 180nm (or lower) CMOS techno with 3.3V Gate Oxide option

Proof of concept is certified by UNH IOL (InterOperability Laboratory)
Benefits
Proof of concept available and tested at certified standard compliant Lab (UNH)

Taped Out on 180nm silicon process

Silicon-proven by Q1-2016

Easy portability
Deliverables
Datasheet

GDS2 and LVS Netlist

Footprint (.LEF)

HDL models

RTL netlist

Test Specifications

HW and SW Integration guidelines
Applications
Automotive networking

ECU

Rear camera

AVB devices (w/ IEEE 1588 PTP support implemented)
Block Diagram of the Automotive Ethernet PHY IP Core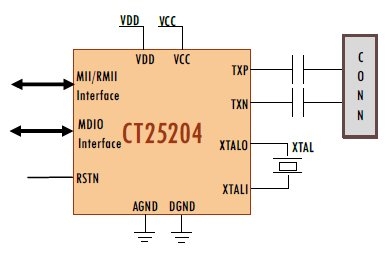 ---
View Automotive Ethernet PHY full description to...
see the entire Automotive Ethernet PHY datasheet
get in contact with Automotive Ethernet PHY Supplier