You are here:
AXI Performance Subsystem
Custom Performance

For designs requiring high performance with multiple data channels and perhaps multi-processing, we can build your subsystem around the Cortex®-A5 processor. Our AXI multi-layer bus can be configured for many masters such as DMA, complex DDR2/3 memory controllers, custom caches, AXI to AHB mult-matrix bridges, AXI to APB peripherals, you name it; we can configure it !


Features
Custom Performance

Supports Cortex-A5 (or equivalent) processor

AMBA® 4.0 (AXI)

AXI Multi-layer bus infrastructure

External Nor Flash controller

DMA (single or multi-channel)

DDR2/3 support (3rd party IP)

Internal SRAM controller(s)

Interrupt Controller (optional)

QSPI with Execute in Place (XIP) for standard Flash parts such as Winbond and Spansion

AXI/APB bridge

Standard APB Peripheral package

I2C, SPI, UART, GPIO, Timers, Watchdog

AXI-AHBLite bridge (optional)
Benefits
Customizable to meet power and performance needs

Integration and Software support

Cost effective

Subsystem upon which to add your IP.
Deliverables
Verilog Source

System level SOC test environment

Simulation and synthesis scripts

C-Code tests
Applications
Typical applications include image processing, video streaming, medical devices, multi-port wireless routers and large display devices.
Block Diagram of the AXI Performance Subsystem IP Core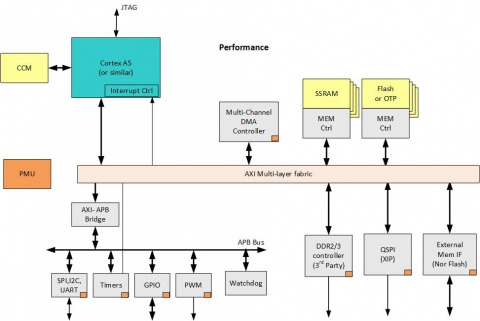 ---
View AXI Performance Subsystem full description to...
see the entire AXI Performance Subsystem datasheet
get in contact with AXI Performance Subsystem Supplier