You are here:
BLE 5.2 LL, PS SW, Profiles IP
BlueLitE is a Bluetooth core certified by BT SIG to meet the specifications version 5.1 (Bluetooth low energy) for single mode.

The BlueLitE product line has two component IPs. The BlueLitE-SP (Stack and Profiles) and the BlueLitE-LP (Link layer and Physical layer)

The v5.2 (Milan) Specifications include the core Protocol Stack and Link Layer specification to support Audio-over-BLE

Generic Audio Middleware Specifications are being defined Bluetooth SIG Working Groups and are Software only specifications to enable Audio-over-BLE

Low Complexity Communication (LC3) codec is being defined


Features
Implements Link layer and physical layer of LE controller specification

Supports all mandatory and optional features

Supports all device roles and states

Architected for very low power and low memory footprint

Integrated Power Management

Firmware portable for 8/16/32-bit microcontrollers

v5.2 (Milan) features: LE Isochronous Channel

LE Power Control

EATT

v5.1 Madrid Features: DF - AoA/AoD

GATT Caching

Periodic AdvSync transfer/ Control length extension

Advertising Channel Index Changes

Minor Functional Enhancements #1
Benefits
BT SIG has licensed our stack for integration into the PTS -Test tool. This ensures that every product will need to prove interoperability against the Mindtree stack for the purpose of qualification

Proven in all UnPlugFests

Tested for interoperability with more than 200 smart phone models
Deliverables
Source Code of Transport Abstraction Layer and Operating System Abstraction Layer

Firmware source code

Technical Documnetation

OS and MCU abstraction layers for portability to any SoC platform

Support for multiple processor bus and flexible RF Interface

BLE 5.2 BQB qualified
Block Diagram of the BLE 5.2 LL, PS SW, Profiles IP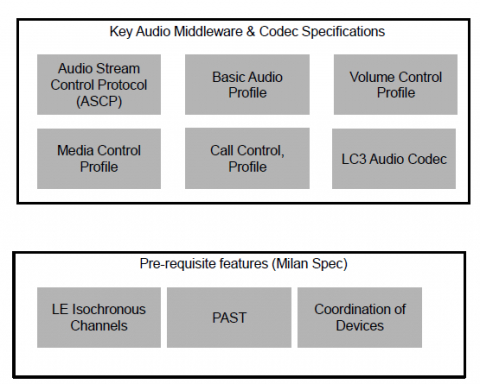 ---
View BLE 5.2 LL, PS SW, Profiles IP full description to...
see the entire BLE 5.2 LL, PS SW, Profiles IP datasheet
get in contact with BLE 5.2 LL, PS SW, Profiles IP Supplier