You are here:
Bluetooth 5.0 LE Transceiver
The BLE5S55LP RF IP is designed for SMIC 55nm LP Process. It combined 2.4 GHz RF and MODEM for Bluetooth 5.0 Low Energy (BLE 5.0) applications. Supported data rates are 1 Mbps and 2 Mbps according to the Bluetooth Low Energy standard. The SPI, data, and control register interface connected to MAC and MCU for Silicon on Chip (SOC) System.
Features
1. Modem with Integrated RF Radio for 2.4 GHz Bluetooth 5.0 communication link

2. SDK for ARM M0~M4 Platforms implementing the Link Layer and Profile Stack in software

3. SPI interface for TX / RX Data flow and Configuration by an external MCU or SOC

4. BQB Certified as a PHY component

5. Compliant with Bluetooth® 5 Low Energy Specification

6. Sleep Mode (~1.3µA) & Deep Sleep Mode (~0.8µA)

7. High TX power with low current (+10dBm, ~10mA)

8. Power Management Unit for power state switching

9. Immune to interference (-25dBm image rejection)

10. 16 / 32MHz crystal, 16MHz clock out to external MCU

11. Data rate: 1 Mbps and 2 Mbps

12. RSSI read-out

13. Integrated security: CRC, AES-128, AES-CCM

14. Embedded 32KHz clock (± 500 ppm)
Block Diagram of the Bluetooth 5.0 LE Transceiver IP Core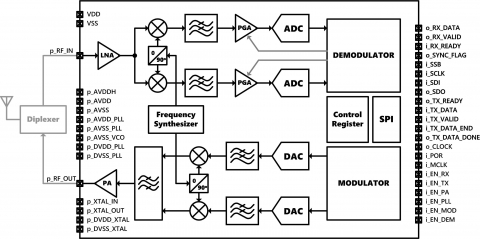 ---
View Bluetooth 5.0 LE Transceiver full description to...
see the entire Bluetooth 5.0 LE Transceiver datasheet
get in contact with Bluetooth 5.0 LE Transceiver Supplier