You are here:
Bluetooth Dual Mode v4.2 RF Transceiver IP
This RF transceiver IP is the design data base of a Bluetooth Dual Mode RF Transceiver extracted from a 40nm production chip. It consists of a complete radio front-end integrating Basic Rate (BR), Enhanced Data Rate (EDR), Low Energy (LE) features fully compliant with the Bluetooth 4.2 specification. This RF is also co-existence proven and matured with WLAN and cellular. A special LPO for the high Sleep Clock Accuracy (SCA) is also integrated for the low power Bluetooth (BLE) applications.
Features
TSMC40nm

High Volume Silicon Proven

Extracted from Design Data Base of production chip

Integrated balun

Single RF I/O for Rx and Tx

Full digital Tx direct-up modulation scheme

Spectral clean Tx

Max Output power

FSK +13 dBm (typical)

DPSK (2 and 3 Mb/s) +10 dBm

RX Sensitivity -92dB

Rx Sensitivity (dirty transmitter at IC: dirty transmitter at BER 0.1%)

FSK -91 dBm

DPSK 2Mb/s -91 dBm

DPSK 3Mb/s -85 dBm

Excellent low power consumption performance

Fully integrated LDO's, DCD converter PMU system
Deliverables
Source Code Delivery with rights to modify

Schematics

Layout

Certification Certificates

Chip Test program

KGD
Block Diagram of the Bluetooth Dual Mode v4.2 RF Transceiver IP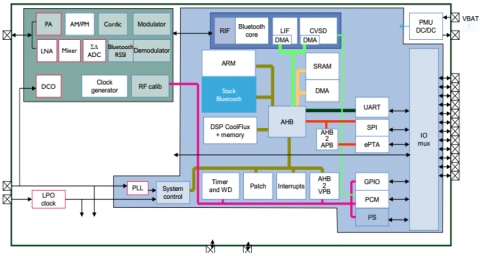 ---
View Bluetooth Dual Mode v4.2 RF Transceiver IP full description to...
see the entire Bluetooth Dual Mode v4.2 RF Transceiver IP datasheet
get in contact with Bluetooth Dual Mode v4.2 RF Transceiver IP Supplier
Bluetooth Dual Mode v4.2 RF Transceiver IP IP