You are here:
Bluetooth DualMode SoC White Box IP
A unique opportunity to licence the "white box source code" design data base of a Tier 1 semiconductor's high volume mass production Bluetooth Dual Mode "SoC" that has been shipped in Tier 1 OEM products.

This Bluetooth dual mode IP is delivered as the complete chip design data base enabling internalization, customization and porting of the design to future process nodes.

The IP comes with all certification certificates and SW and the design data base can be TO and in volume production in under 6 months of purchase.

The commercial terms are single NRE payment, no royalties, unlimited usage, making it a very cost effective, low risk, Bluetooth Dual Mode technology access.
Features
•World's best RF performance

•Low cost, low footprint including eBoM

•Ultra low power consumption with innovative host offloading features

•Best-in-class IOT with comprehensive coverage

•Best-in-class support coverage from concept to field deployment

•Wide Band Speech Support

•White Box, Source Code in 40nm process
Benefits
•Over 12 years of BT history

•8th generation product

•Fully Certified

•Shipped in millions of products

•Supper Low Power Consumption
Deliverables
•White Box Source Code

•40nm RF including schematics, database and test bench

•RTL source code

•SW source code

•BT Certification documents
Applications
•Stereo Headphones

•Mobile

•Cellular

•Communications
Block Diagram of the Bluetooth DualMode SoC White Box IP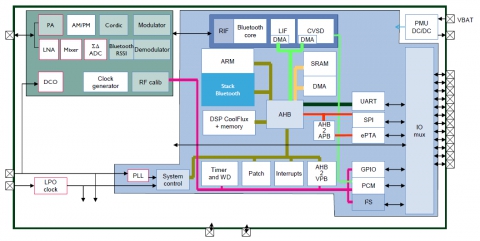 ---
View Bluetooth DualMode SoC White Box IP full description to...
see the entire Bluetooth DualMode SoC White Box IP datasheet
get in contact with Bluetooth DualMode SoC White Box IP Supplier
Bluetooth Dual Mode SoC White Box IP IP