You are here:
C166S Processor (70051)
The architecture of the 16-bit C166S processor combines the benefits of both RISC and CISC (Reduced and Complex Instruction Set Computing). This well-balanced approach delivers the memory saving code density and fast context switching of CISC with the easy RISC instruction decode that enables fast clocking. The C166S processor also features an optional MAC unit to create a unique combination of real-time control and DSP capabilities in one core.

The C166S V1 Subsystem is fully instruction set compatible with popular Infineon C16x devices and is proven in hundreds of millions of production units.
Features
The 16-bit C166S V1.2 processor is the foundation of the C166S V1 Subsystem. Features of the C166S V1.2 processor include:

4-state pipelined CPU that is fully compatible with the C166 instruction set

Optional support for additional MAC instructions

Infineon On-Chip Debug Support (OCDS) and Cerberus communication channel

Scalable interrupt controller supporting 12–112 interrupt nodes

External Bus Controller that supports the Infineon XBus+ protocol and provides support for the off-chip external bus interface

The C166S V1 Subsystem builds upon the C166S V1.2 processor, adding several tightly integrated peripherals:

General-purpose timer unit (GPT12E) that includes 5 multi-functional 16-bit timers for timing, event counting, pulse width measurement, pulse generation, and frequency multiplication

Asynchronous/synchronous serial channel (ASC) supporting full-duplex asynchronous communication at up to 3.125 MBaud and half-duplex synchronous communication at up to 6.25 MBaud (at 50 MHz)

High-speed synchronous serial channel (SSC) supporting full-duplex synchronous communication at up to 25 MBaud in master mode and 12.5 MBaud in slave mode (at 50 MHz)

General-purpose I/O ports. These ports can be used as I/O lines (up to 48) or as the external bus for the C166S V1 Subsystem. The C166S external bus is compatible with Infineon's C166 family of devices.

Clock enable generator (CEG), which generates the enable signals for the various submodule clocks
Deliverables
Verilog source code

Integration Testbench and Test-suite

Comprehensive Documentation

Scripts for simulation and synthesis with support for common EDA tools
Block Diagram of the C166S Processor (70051) IP Core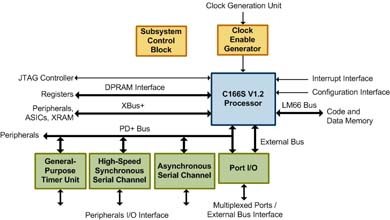 ---
View C166S Processor (70051) full description to...
see the entire C166S Processor (70051) datasheet
get in contact with C166S Processor (70051) Supplier