You are here:
Camera Link Frame Grabber Channel Link Data Processor
The Integre IP-CamLink is an end to end frame grabber solution for Camera Link processing of image data and image enables that are deserialized from Channel Link interfaces.

Features
Inclusive of all Camera Link defined camera configurations including the proposed 80 bit extensions which utilize one to three Channel Link or equivalent devices.

Supports single camera or two independent base cameras for multi-view or 3D stereo applications.

Fully synchronous pipeline architecture supports high speed implementation in low cost logic devices.

Dynamic reconfiguration of the processing chain via register interface in addition to a user selected default setup.

Data resynchronization of the three Channel Link interface inputs for coherent pixel data presentation at the output.

Output image data presented on an eight byte memory mapped pixel interface as depicted in the Camera Link specification.

Camera image enables are carried through to the output with an added data valid qualifier for the streaming synchronous output.

Input link status and link data resynchronization status outputs available for increased visibility and enhanced debug capabilities.
Deliverables
The core is delivered as encrypted RTL and includes:

Testbench and Verification Environment

User Guide Documentation
Block Diagram of the Camera Link Frame Grabber Channel Link Data Processor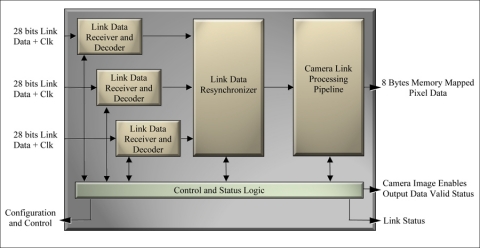 ---
View Camera Link Frame Grabber Channel Link Data Processor full description to...
see the entire Camera Link Frame Grabber Channel Link Data Processor datasheet
get in contact with Camera Link Frame Grabber Channel Link Data Processor Supplier