You are here:
CAN ARINC 825 - DO-254
CAN is a message-based protocol, designed specifically for automotive applications and as of now, for any avionics
equipment in safety critical applications. The CAN Interface module is a dedicated interface which enables data communication for ARINC825 application layer. It allows a system with an embedded CAN bus to transmit information quickly and surely.
The hardware item only covers digital layers of the CAN Protocol bus architecture.
The D002_ARINC825 matches major needs of any critical application and mainly those requiring a DO-254 DAL-A compliance in the aerospace area.
Features
IP developed according to DO-254/ED-80 guidance. Compliant DAL A.

Compliant with ARINC825-1 Specification. May 10, 2010.

Compliant with CAN 2.0 Specification (v 2.0) published by Bosh (part A and part B).

Able to recover from SEU (self healing feature) and to report any detected errors thanks to its embedded reliability features.

Support Transceiver ISO1050 from Texas Instrument and Philips TJA1040 with Standby mode.
Benefits
The CAN IP Core has been implemented in Microchip FPGA in a DAL-A application for a civil aircraft. This IP Core has been certified DAL-B by official certification authorities.
Deliverables
Technology independent, VHDL or Verilog RTL source code compliant with SILKAN s design standard.

SystemVerilog verification test-benches with 100% code coverage and functional requirement coverage.

Reference Design as integration example (i.e Dry Run).

SILKAN s support includes technical integration, DO-254 integration and certification phases.

IP Datasheet and Customer Requirement Specification (CRS) document.

Encrypted version available immediately.

Final delivery received five months after committed HRD.
Applications
The CAN IP Core is perfectly adapted for civil aerospace application.
Block Diagram of the CAN ARINC 825 - DO-254 IP Core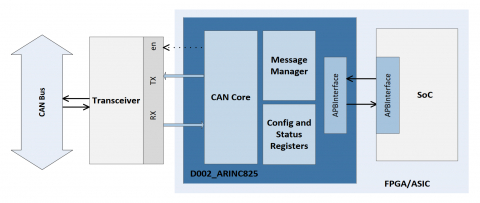 ---
View CAN ARINC 825 - DO-254 full description to...
see the entire CAN ARINC 825 - DO-254 datasheet
get in contact with CAN ARINC 825 - DO-254 Supplier