You are here:
CAN Bus Controller with Message Filter (configurable)
The CAN Bus Controller with Message Filter is a full functional CAN controller module that contains advanced message filtering, and receive-, and transmit buffers. The CAN Bus Controller is designed to provide a low gate-count CAN interface for FPGA and ASIC based system-on-chip (SOC) integrations.

Full message filtering together with a transmit FIFO and a high priority transmit message buffer support a wide range of applications. An AMBA Advanced Peripheral Bus (APB) interface enables smooth integration into ARM based SOC's.
Features
Standard Compliant

Full CAN 2.0B compliant

Supports standard CAN baud rates including 1 Mbps

3 Programmable Acceptance Filters

Message filter covers: ID, IDE, RTR, Data byte 1 and Data byte 2

User selectable number of filters

Receive Path

32 messages deep receive FIFO

FIFO status indicator

System time-stamp

Transmit Path

16 messages deep transmit FIFO

1 message buffer for high priority messages to bypass transmit FIFO

Message Arbiter

System Bus Interface

AMBA 2.0 Advanced Peripheral Bus Interface

8-bit, 16-bit, or 32-bit wide data path

Status and configuration interface

Programmable Interrupt Controller

Local interrupt controller covering message and CAN error sources

Supports FPGA systems with two clock domains

System clock (fast clock)

CAN clock (slow clock)

Test and Debugging Support

Listen only mode

Internal loopback mode

External loopback mode

SRAM Based Message Buffers

Optimized for low gate-count implementation

100% Synchronous Design
Benefits
Several special implementation options are available for gate count optimized implementations. These options have to be configured prior to synthesizing the design.

Configuration register read-back enable

To minimize gate count, the configuration register read-back path can be disabled

Receive and transmit FIFO size can be adapted to system requirements

Two separate clock domains

A dedicated CAN clock is available when the system clock is too high for the CAN core. This feature can be disabled by a configuration entry.

Fixed configuration

For gate count optimized FPGA implementations, it might be desirable to set the configuration register to a fixed value.

Message filter support

3 local message filters can individually be selected. This provides the option of having 0, 1, 2, or 3 CAN message filters available for the target application.

Different Data Bus Interfaces

Supports 32-bit APB, 16-bit, and 8-bit system bus interfaces
Deliverables
VHDL or Verilog RTL Source Code

Verification Suite

Functional Testbench including CANbus tranceiver model and additional CAN nodes

Synthesys Script

Data Sheet

User Guide

Hotline Support by means of phone, fax and e-mail
Block Diagram of the CAN Bus Controller with Message Filter (configurable)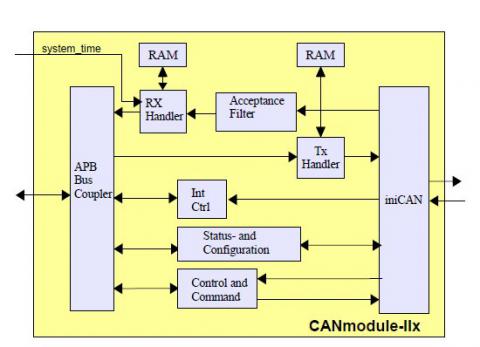 ---
View CAN Bus Controller with Message Filter (configurable) full description to...
see the entire CAN Bus Controller with Message Filter (configurable) datasheet
get in contact with CAN Bus Controller with Message Filter (configurable) Supplier