You are here:
CAN-XL Controller
Arasan's most advanced CAN-XL Controller Core performs serial communication as per CAN 2.0, CAN-FD & CAN-XL Specifications. It also supports original Bosch Protocol & ISO 11898 specifications for TTCAN (Time Triggered Operation) as specified in ISO11898-4. The design is fully optimized to support AUTOSAR and SAE J1939 specifications. Arasan's CAN-XL Controller core is easy to integrate with the Host processor using AMBA-AXI standard interface. This highly configurable design supports programmable Interrupts, data and baud rates, acceptance filters & buffering schemes specific to the application.
---
View CAN-XL Controller full description to...
see the entire CAN-XL Controller datasheet
get in contact with CAN-XL Controller Supplier
Block Diagram of the CAN-XL Controller IP Core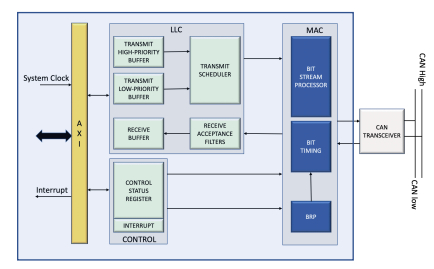 Video Demo of the CAN-XL Controller IP Core
Arasan, a leading provider of semiconductor IP for all things mobile, including automobiles released its 2'nd generation of CAN IP FPGA demo video.