You are here:
ColdFire V4 SPP Processor Platform (70020)
The ColdFire V4 Processor is a high-performance implementation of the ubiquitous ColdFire architecture from Freescale Semiconductor, offering over 500 DMIPS of performance. Fully code compatible with ColdFire V1 and V2 devices, the ColdFire V4 Core offers high-end features such as cache and Memory Management Unit (MMU), plus advanced arithmetic units including hardware divider (DIV), enhanced MAC (EMAC), and an optional Floating Point Unit (FPU).

Like all ColdFire processor cores available from Silvaco, the ColdFire V4 Core is a production-proven design. The ColdFire V4 Core is the same IP implemented in Freescale's MCF5441x microcontrollers. By either including or excluding the FPU, you can configure the ColdFire V4 Core to match either the V4e or V4m processor configuration used in Freescale MCF54xx devices. And, like the ColdFire V1 and V2 cores, the ColdFire V4 Core benefits from the extensive ecosystem of development systems, tools, and software supporting the ColdFire architecture.
---
View ColdFire V4 SPP Processor Platform (70020) full description to...
see the entire ColdFire V4 SPP Processor Platform (70020) datasheet
get in contact with ColdFire V4 SPP Processor Platform (70020) Supplier
Block Diagram of the ColdFire V4 SPP Processor Platform (70020) IP Core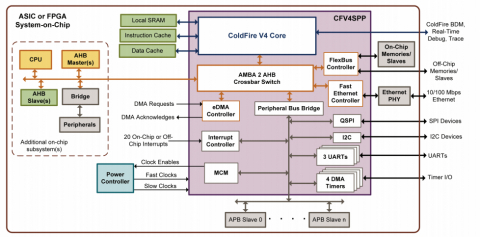 Video Demo of the ColdFire V4 SPP Processor Platform (70020) IP Core