You are here:
Common Flash Interface
CoreCFI provides an external interface to the embedded Flash memory blocks within the Fusion devices with which a user will be able to communicate (i.e. read, write, and erase) to the embedded Flash memory. This IP block provides a functional subset of the Common Flash Interface with a design emphasis to minimize design size.
Features
Provides a Industry Standard Interface to Microsemi's Flash Memory

Implements a Subset of the Common Flash Memory Interface Specification Release 2.0

Supports Read and Read Query, Automatic Write and Erase, Lock and Status Operations

128-Byte Write Page Buffer and Write/Erase Size

16-Byte Page Read Buffer

8-Bit, 16-Bit and 32-Bit Operation

Low Tile Count (Resource Utilization)
Block Diagram of the Common Flash Interface IP Core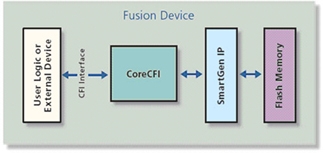 ---
View Common Flash Interface full description to...
see the entire Common Flash Interface datasheet
get in contact with Common Flash Interface Supplier