You are here:
Configurable Cross Converter
The Configurable Cross Converter is a parameterized integration of the VPC-1 Deinterlacer and VSC-1 Scaler IP cores along with all circuitry necessary to interface to a DRAM controller. The Configurable Cross Converter greatly simplifies using the VPC-1 and VSC-1 in a wide range of applications. All build-time parameters supported by the VPC-1 and VSC-1 are available at the top level of the CXC-1. Additional build-time parameters are provided to include or exclude certain processing blocks. This allows, for example, the CXC-1 to be configured as a full up/down/cross converter or as a deinterlacer only or a scaler only.
Features
General

Parameterized integration of VPC-1 deinterlacer and VSC-1 scaler IP cores with flexibility to address wide range of applications

Complete up/down/cross conversion (the following input and output formats are supported: 480i, 576i, 480p, 576p, 720p, 1080i, 1080p and other custom formats)

Dynamic resizing and real time aspect ratio conversion (ARC) without artifacts

Selective crop and zoom (Ultra Zoom)

8/10/12-bit 4:2:2 or 4:4:4 processing

Deinterlacing

High quality motion adaptive deinterlacing and related functions based on VPC-1 Deinterlacer IP core

Scaling

High quality polyphase scaling based on VSC-1 Scaler IP core

DRAM Interface

Includes all circuitry required to interface seamlessly with Xilinx and Altera memory controllers

Compatibility

Support for both Xilinx and Altera devices
Deliverables
Synthesizable Verilog RTL source code

Verilog testbench

Bit-accurate C model

Verification test suite

Product documentation

Integration guidelines

Integration support
Block Diagram of the Configurable Cross Converter IP Core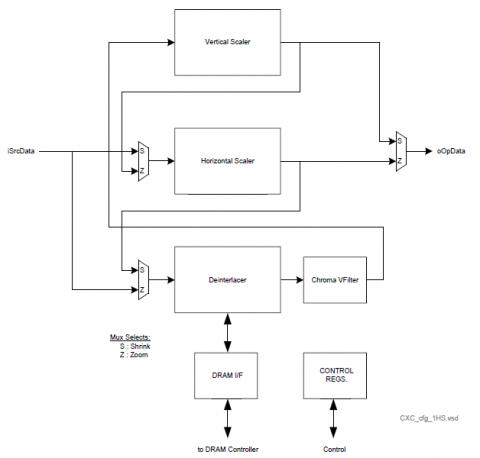 ---
View Configurable Cross Converter full description to...
see the entire Configurable Cross Converter datasheet
get in contact with Configurable Cross Converter Supplier
configurable cross converter IP