You are here:
Configurable Timer Counter
The CC-TIMER-APB is a synthesisable Verilog model timer counter controller. The TIMER core can be efficiently implemented on FPGA and ASIC technologies.
Features
AMBA APB3 bus

Programmable multi-function timer

Double buffered configuration registers

Configurable single/dual slope PWM outputs

Configurable standard/period/pulse input capture mode

Stop in debug mode option

Fully synthesizable synchronous design with positive edge clocking

DFT ready
Benefits
Synthesizable RTL Verilog source code

Technology independent IP Core

Suitable for FPGA and ASIC

Silicon and FPGA proven

Easy SoC integration

Full implementation and maintenance support with individual approach

Flexible licensing scheme
Deliverables
Verilog RTL source code

Verification suite

Datasheet and integration guide

C-header file

Constraints

Technical support
Block Diagram of the Configurable Timer Counter IP Core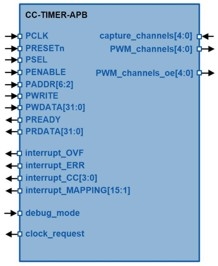 ---
View Configurable Timer Counter full description to...
see the entire Configurable Timer Counter datasheet
get in contact with Configurable Timer Counter Supplier