You are here:
Configurable Watchdog Timer (WD)
A watchdog is used in systems to prevent system lockup due to software or hardware failures. For normal operation, the timeout counter has to be reset by the CPU in a regular interval. Depending on the watchdog configuration, the watchdog asserts the reset_req and int_req outputs upon expiration of the timeout counters.
To avoid malfunction software to reconfigure the watchdog, all configuration registers are protected by a special lock key. The timeout interval can be configured over a wide range:
* min: 65536 system clock cycles
* max: 67'108'864 system clock cycles
Using a system clock of 40MHz, this results in a timeout window of 1.6ms – 1.67s.
Features
Two timeout outputs

Configurable timeout interval

Configuration register protected with lock key

Timeout interval with 40Mhz clock:

Supports synchronous bus interfaces such as AMBA APB version 2.0

Full synchronous design

Synthesis Options:

CPU readback enable

Selectable lock key and reset key values
Benefits
For gate-count optimization, the core can be configured to disable the configuration register read-back path. Synthesis options are included to use the core in 8, 16 and 32-bit systems. With a separate APB wrapper, the core can be used in ARM subsystems.
Deliverables
VHDL or Verilog RTL Source Code

Functional Testbench

Synthesys Script

Data Sheet

User Guide

Hotline Support by means of phone, fax and e-mail
Block Diagram of the Configurable Watchdog Timer (WD) IP Core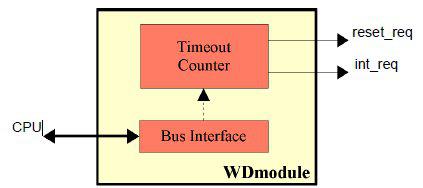 ---
View Configurable Watchdog Timer (WD) full description to...
see the entire Configurable Watchdog Timer (WD) datasheet
get in contact with Configurable Watchdog Timer (WD) Supplier