You are here:
Constant False Alarm Rate Processor (CFAR)
The Constant False Alarm Rate (CFAR) core is a high throughput IP core, whose main application area is automotive driver assistance radar. It is normally applied post-FFT in order to scan output bins for objects in noise, with a pre-designed False Alarm (FA) probability. Pre-screening the FFT output bins in hardware reduces substantially the size of data transfers to the embedded processing system, and equally reduces computationally intensive embedded processing load.
Features
Single clock cycle processing per bin making it suitable for interfacing with Pipelined FFT cores.

Parameterised input I/Q sample bit widths

Single clock cycle sorting update algorithm for extracting ordered statistics;

Real-time (per block) configuration of algorithm parameters;

Equivalent processing in logarithmic domain for reduced area and power use.

Generalised Ordered Statistic (GOS) CFAR algorithms

GOS Cell Averaging (CA) – CFAR;

GOS Greatest Of (GO) – CFAR;

GOS Smallest Of (SO) – CFAR;

Cell Averaing (CA) CFAR algorithms

Classical CA – CFAR;

Greatest of (GO) CA - CFAR;

Smallest of (SO) CA – CFAR;

AMBA 4 APB/AXI4-streaming interface
Benefits
Removes a compute intensive task away from the microprocessor to a predictable, low-latency offload engine

Enables more radar elements to be processed for greater driver security

Portable to either ASIC or FPGA target architecture
Deliverables
Source code RTL

Testbench

MATLAB model

Synopsys, Cadence, Xilinx and Altera synthesis flows

Documentation
Applications
Automotive driver assistance radar

Roadside traffic management radar

Military radar
Block Diagram of the Constant False Alarm Rate Processor (CFAR)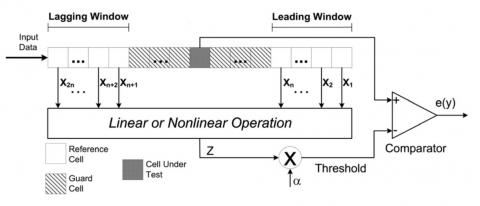 ---
View Constant False Alarm Rate Processor (CFAR) full description to...
see the entire Constant False Alarm Rate Processor (CFAR) datasheet
get in contact with Constant False Alarm Rate Processor (CFAR) Supplier