You are here:
Cortus Development Platform with Spartan-6 X75 FPGA with 1 Mbyte of SRAM
The Cortus Development Platform is an ideal tool for evaluating and prototyping the full range of Cortus APS 32 bit processor cores. It is also a vehicle for developing hardware and software for Cortus-based systems including multi-core ones.

It features a Xilinx Spartan -6 X75 which is large enough to prototype substantial single and multicore systems based around Cortus processors. 1 Mbyte of high speed synchronous static RAM are available for application use, giving single cycle access for systems running at up to 100 MHz.

A 32 Mbit serial (SPI) Flash memory holds the FPGA configuration and can be shared to hold the application software.

A USB interface, driven by an FTDI FT2232H, assures the JTAG connection (Windows and Linux drivers are available) which is fully compatible with Cortus tools. A second channel (over the same USB interface) provides a UART connection to the system being prototyped, ideal for terminal applications.

The FPGA board offers an I/O footprint that is compatible with the Arduino Due enabling the use of 'shields' designed for that platform. Additional I/O connectors are available to extend the memory available to the platform with DDR2 memory to 512 Mbytes. This gives enough memory to run a complete version of Linux on the board. Additionally this memory extension can include a USB2.0 PHY to combine with the Cortus USB2.0 MAC creating an ideal platform for prototyping embedded Linux systems.

Two buttons provide system reset and FPGA load functionality.

A 50 MHz oscillator provides timing for the FPGA. The internal DCMs and PLLs of the FPGA ensure that a wide range of system frequencies can be generated.
Features
Spartan-6 X75

1 Mbyte synchronous SRAM

32 Mbit SPI flash

10/100 Mbits/s Ethernet PHY

JTAG & serial interfaces

Arduino Due I/O footprint

50MHz Clock Oscillator

Cortus toolchain & IDE
Benefits
The platform provides more than enough capacity to prototype single- or multi-core systems based on Cortus APS processor cores.

The FPGA board is extendible using a wide choice of 'shields' (daughter boards) that work with the Arduino Due physical interface.

The Ethernet PHY is fully compatible with the Cortus APS Ethernet MAC.
Deliverables
Cortus FPGA development board

Cortus toolchain and IDE
Applications
Evaluating and prototyping systems based on Cortus APS processor cores
Block Diagram of the Cortus Development Platform with Spartan-6 X75 FPGA with 1 Mbyte of SRAM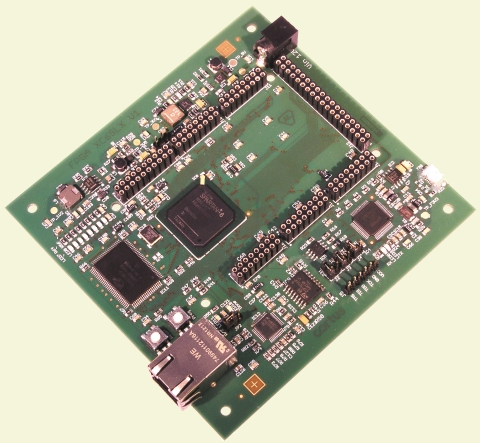 ---
View Cortus Development Platform with Spartan-6 X75 FPGA with 1 Mbyte of SRAM full description to...
see the entire Cortus Development Platform with Spartan-6 X75 FPGA with 1 Mbyte of SRAM datasheet
get in contact with Cortus Development Platform with Spartan-6 X75 FPGA with 1 Mbyte of SRAM Supplier