You are here:
Customizable Embedded Multi-port PCIe Switch
XpressSWITCH is a customizable, Embedded PCIe Switch designed for ASIC and FPGA implementations enabling the connection of one upstream port and multiple downstream ports with a large choice of configurations. XpressSWITCH is the first embedded switch available on the market and enables designers to use fewer PHYs, saving latency, power consumption and bill-of-material. PCIe switches manage dataflow within a device, delivering the flexibility, scalability and configurability required to connect a large pool of drives or networks.
Features
Switching Logic:

1 Upstream port

Multiple Downstream ports (2 up to 32)

Independent configuration of link width, link speed, equalization settings, and PIPE interface per-PCIe port

PCIe TLP routing: Configuration, Memory Write/Read, I/O and Messages Packets

L1 and wake-up events forwarding

Peer-to-peer transactions support

Round-Robin arbitration

No Packet buffering

Test port functionality

User clock - integrated Clock Domain Crossing to support user-selected frequency in the Switching logic

PCI Express Interface

x1, x2, x4, x8 PCI Express Core

256-bit data path

Supports link rate of 2.5, 5.0, 8.0, 16 and 32 Gbps per lane

PCI Express Based Specification Revision 3.1 compliant

PHY Interface for PCI Express (PIPE) 3.0 rev.0/4.0/4.2 compliant

1 Virtual Channel (VC)

8-bit, 16-bit, 32-bit PIPE interface

Receive and Replay configurable buffer size

Advanced Error Reporting (AER) support

ECRC generation and check support

Cut-Through mode to reduce latency

Lane reversal

Customization

Easy IP customization

Unused features not implemented in silicon
Benefits
Flexibility: The solution is highly configurable and scalable. For example, the designer can choose to implement up to 32 external or embedded Endpoints, and define for each port a different clock speed, data rate and throughput in order to optimize the footprint of the design.

20+ years of experience in design of IP cores for ASIC with specialization in high-speed interface protocols and technologies, more than 5700 customers , including several hundred of ASIC tape-outs.

Allows seamless migration from FPGA prototyping design to ASIC/SoC production design with same RTL.

Significant Latency, Power and Performance Improvements: XpressSWITCH delivers improvements in latency (using Cut-Through mode), optimization of power consumption (using embedded Endpoints), and better performance through a non-blocking architecture (using Peer-to-Peer transfers between Endpoints).

Demonstrated reliability: The solution has been integrated, tested and demonstrated on PLDA's XpressKUS FPGA board running a Xilinx® Kintex® UltraScale™ device and has achieved PCI Express (PCIe®) compliance.

No requirement for software development: The switch will work without additional software development through the use of the configuration wizards and reference designs provided, reducing time-to-market

BOM/Cost savings: PCIe Embedded Switch IP enables a minimized footprint and reduces the number of chips required on the board.

Shorter time-to-market: PCIe Embedded Switch IP enables the reuse of existing design, reducing design time and creating independence from the SerDes Technology.
Deliverables
IP files​

Verilog RTL source code

Libraries for functional simulation

Configuration assistant GUI

Documentation

PCI Express® Bus Functional Model

Encrypted Simulation libraries

Software

PCI Express® Windows x64 and Linux x64 device drivers

PCIe C API

Reference Designs

Synthesizable Verilog RTL source code

Simulation environment and test scripts

Synthesis project & DC constraint files (ASIC)

Synthesis project & constraint files for supported FPGA hardware platforms (FPGA)
Applications
Storage

Networking

Datacenter
Block Diagram of the Customizable Embedded Multi-port PCIe Switch IP Core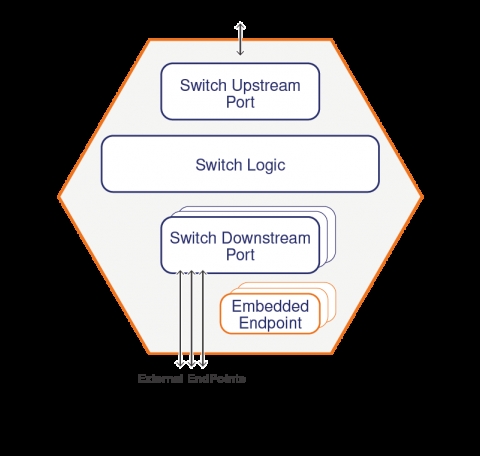 ---
View Customizable Embedded Multi-port PCIe Switch full description to...
see the entire Customizable Embedded Multi-port PCIe Switch datasheet
get in contact with Customizable Embedded Multi-port PCIe Switch Supplier