You are here:
Direct Memory Access Controller IP Core
This DMA IP core implements a configurable, single-channel, direct memory access controller for the 32-bit wide AHB bus. It conforms to the Advanced Micro controller Bus Architecture 2.0 (AMBA) specification.

The DMA controller contains useful features such as incrementing and non-incrementing addressing, linked list operation, and interrupt control to alert the processor to the DMA's status.

Non-incrementing addressing is useful for transferring data to and from peripherals with FIFOs or a single data port. Incrementing addressing is useful for transferring data to and from memories or peripherals containing memory. Linked list support is useful for non-contiguous memory transfer operations.

The DMA controller acts as a bus master device that controls data block transfers from a source memory or peripheral to a destination memory or peripheral. The controller can implement multiple DMA channels simply by instantiating more than one controller on the AMBA AHB bus. Arbitration is handled by the AHB system bus.
Features
AHB Master/Slave DMA Controller

Single Channel, multiple instantiation

Modes:

Memory to Memory

Memory to Peripheral

Peripheral to Memory

Peripheral to Peripheral

Source and destination address descriptors

Single word and burst transfer requests

Programmable burst size

Current address status

Incrementing, wrapping, and non-incrementing addressing

Linked list support

Transfer complete interrupt

Low gate count, e.g., under 11,000 gates for 90nm ASIC

Scatter-gather support allows DMA to merge multiple data sources into contiguous space

Supports both hardware initiated transfers and software initiated transfers

Supports 8-, 16-, or 32-bit wide transfers

Supports burst transfer to maximize data bandwidth

Bus Interface designed for high-speed access to any AHB slave device

Handles wait-state insertion by any AHB slave device

Supports all responses from an AHB slave device: OK, SPLIT, RETRY, ERROR
Deliverables
The core is available in ASIC (synthesizable Verilog) or FPGA (netlist) forms, and includes everything required for successful implementation:

AMBA Bus Functional Model (Verilog)

Sophisticated self-checking Testbench (Verilog)

Simulation script, vectors, expected results, and comparison utility;

Synthesis script or place and route script

Comprehensive user documentation, including detailed specifications, software guide, and a system integration guide
Applications
The DMA controller is suitable for a variety of applications requiring data transfers without the use of a processor such as:

Microprocessor subsystems (specifically AMBA 2.0 AHB systems)

Display systems

USB, Ethernet, and Serial Communications

Encryption/Decryption systems

Data processing
Block Diagram of the Direct Memory Access Controller IP Core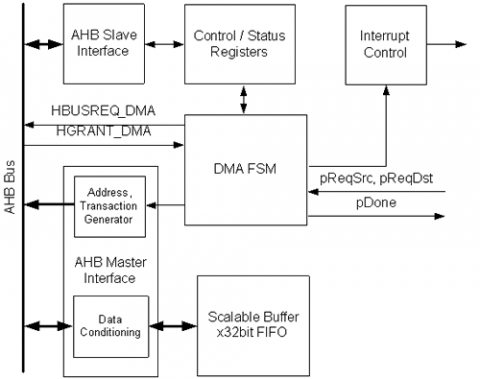 ---
View Direct Memory Access Controller IP Core full description to...
see the entire Direct Memory Access Controller IP Core datasheet
get in contact with Direct Memory Access Controller IP Core Supplier