You are here:
Display Stream Compression (DSC 1.2) Decoder
The Display Stream Compression (DSC) standard from the Video Electronics Standards Association (VESA) offers visually lossless compression for high definition (HD) video in broadcast, automotive, medical and consumer electronics applications. The Trilinear Technologies M25 DSC 1.2 Decoder offers real time decompression of HD streams with resolutions from 480p up to 8K. The decoder core is fully compliant with the VESA DSC 1.2 standard and is available for both FPGA and ASIC platforms.

The M25 core is delivered with an industry standard AMBA 3.0 Peripheral Bus interface for host configuration and decoder control. The encoded input interface is AXI4-Stream Protocol compliant and the output interface uses a streaming data structure with associated line and frame formatting signals. The DSC 1.2 Decoder core supports 8, 10, 12, 14 or 16 bits per pixel using either the RGB or YCbCr in 4:4:4 or 4:2:2 format.

The M25 DSC 1.2 Decoder core ships with a complete 'C' reference driver and a fully documented API. The core is available on the Trilinear Technologies' Cobra Development platform based on the Xilinx Kintex-7 FPGA family. This FPGA based reference system provides a complete development environment for core evaluation as well as early software development.

Features
Overview

VESA DSC 1.2 Compliant

Capable of decoding 4K video at 30fps in FPGA and ASIC

Decode 8K video at 30fps in ASIC applications

Low gate count implementation

Low latency implementation

Decoder Details

RGB or YCbCr encoded input

8, 10 or 12 bits per color

4:2:0 and 4:2:2 support

AXI 4 Stream Input Interface

AMBA 3.0 APB Host Interface

Reference Software

Complete reference driver

Stream decoder sample application

C source code provided

FPGA Development Platform

32-bit MIPS CPU based system

HDMI Video Output

Optional DisplayPort 1.3 output

SD Card Stream Storage

Hardware Driver and Reference Encoder Included
Block Diagram of the Display Stream Compression (DSC 1.2) Decoder IP Core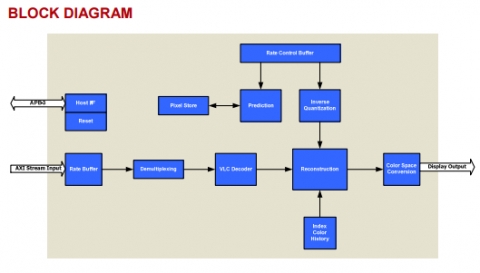 ---
View Display Stream Compression (DSC 1.2) Decoder full description to...
see the entire Display Stream Compression (DSC 1.2) Decoder datasheet
get in contact with Display Stream Compression (DSC 1.2) Decoder Supplier