You are here:
DisplayPort 1.4a Receiver Link Controller
The Trilinear Technologies VF-117R Link Controller is a fifth-generation core which implements support for the DisplayPort 1.4 standard. The highly integrated design includes the Main Link, Secondary Channel and AUX Channel functions. In addition, HDCP and embedded DisplayPort support are available. The core is highly configurable and can support multiple link rates from 1.62Gbps to 8.1Gbps across 1, 2, or 4 lanes.

The Trilinear VF-117R core has been thoroughly validated using industry accepted DisplayPort compliance test suites. In addition, the core has passed significant interoperability testing and is shipping in numerous production systems. The core is currently shipping in both ASIC and FPGA implementations.

The video output port is implemented using an industry standard sync and data interface which simplifies integration into existing systems. For systems that include a host processor, access is provided via a 32-bit AMBA APB4 bus interface. For most receiver applications, a host processor is not required. Audio interfaces are supported through multiple I2S ports or a SPDIF port. An integrated I2C master provides access to either on-chip or an external EDID ROM.

The VF-117R core ships with a DisplayPort compliant software stack and a fully documented API. The core is available for evaluation on the Trilinear Technologies' Cobra Development platform. This FPGA based reference system provides a complete development environment for core evaluation as well as early software development.

Features
Overview

DisplayPort 1.4 compliant

Embedded DisplayPort 1.4a compliant

Multiple technology platforms

Configurable core

Interfaces

Standard VS/HS video interface

1 or 2 pixels per output cycle

135MHz / 81MHz or 108MHz reference clock

AMBA APB-4 Slave Interface

I2S Audio Output

Core Details

Multiple link rate support up to 8.1Gbps across 1,2, or 4 lanes

Optional secondary channel support

Optional HDCP 1.3 or HDCP 2.2 support

Deep color support

eDP PSR and PSR2 supported

DSC and FEC supported

Reference Software

DisplayPort 1.4 compliant

Low complexity driver for systems requiring a host processor

Sample configuration

Fully documented API

FPGA Development Platform

32-bit MCU based system

Real time video input

Includes the VF-117R Link Controller, DDR-3 system and display controller
Deliverables
HDL source files for the function design

HDL source files for basic core testing

User's Guide

Integrator's Guide

Timing constraints summary document

Generic SRAM simulation models

C Reference Driver
Block Diagram of the DisplayPort 1.4a Receiver Link Controller IP Core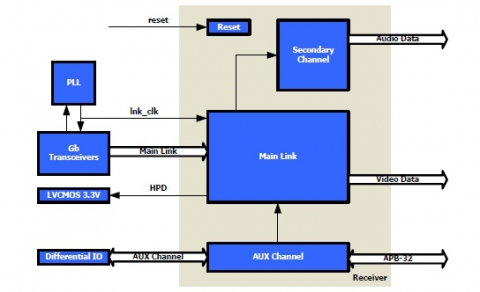 ---
View DisplayPort 1.4a Receiver Link Controller full description to...
see the entire DisplayPort 1.4a Receiver Link Controller datasheet
get in contact with DisplayPort 1.4a Receiver Link Controller Supplier