You are here:
DMA Core for PCIe Hard IP
iWave provides the user application for PCI-e target bridge to access the control & status registers of custom logic and data transfers to custom logic. In addition multi-channel scatter gather DMA core provides the hardware assisted high speed data transfers between the PCI-e and custom logic. This IP core simplifies the integration of PCI-e hard macro controller with custom logic.
Features
TLP Encoding and Decoding

Completion packet handling done by target bridge

Integrated Arbiter with round robin fashion

32/64 bit AXI stream user interface from PCIe Hard IP depends on no. of PCIe lanes

User interface operating frequency is 62.5/125 MHz

Simple synchronous target interface to access custom logic

Altera version supports these devices: Cyclone IV G, Aria II GX, Statix IV GX and Stratix V GX

Supports Legacy and MSI Interrupts

Scatter-gather DMA controller for high performance8 programmable DMA channels

Simple synchronous interface to custom logic

Separate channel for data and buffer descriptor transfer

Scattered/Contiguous Buffer descriptor support

Auto-increment or constant address pointer feature

Mask-able error, status and data completion interrupts

Xilinx version supports these devices: Spartan 6, Virtex 5 and Virtex 6
Benefits
Core reduces the design development cycle as well as design complexity

Custom logic need not to interact with PCI-e Hard IP
Block Diagram of the DMA Core for PCIe Hard IP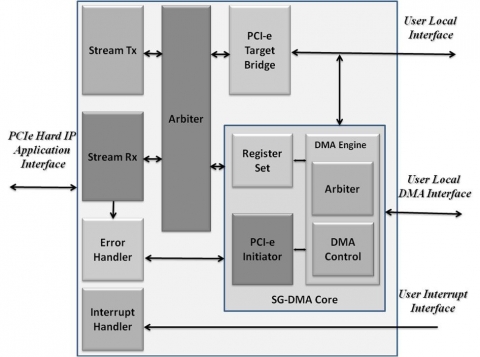 ---
View DMA Core for PCIe Hard IP full description to...
see the entire DMA Core for PCIe Hard IP datasheet
get in contact with DMA Core for PCIe Hard IP Supplier