You are here:
DPA Resistant AES Core
The DPA Resistant AES solution implements the AES algorithm with built-in robust, flexible side-channel resistance validated and optimized for different performance and security levels.
Features
Core implements a very high-security AES primitive

Available as AES-128 and AES-256 encrypt and decrypt

Simple control/status interface

Implements DPA countermeasures such as LMDPL (LUT-Masked Dual-rail with Pre-charge Logic) gate-level masking and other schemes

No routing constraints necessary for LMDPL gate-level masking

Design Priorities:

Security

Performance

Area
Benefits
High-performance and DPA resistance-proven AES cryptographic core

Provides a higher level of protection than standard AES cores

Extensively validated against side-channel attacks

Highly flexible for integration with standard cipher modes such as CBC, ECB, etc.

Easy-to-integrate into SoCs
Deliverables
The DPA Resistant AES solution is available as either an IP core or a software library.

DPA Resistant AES Core:

Verilog RTL reference design

Synthesis Inputs

SDC constraint file suitable for FPGA or ASIC synthesis

Documentation

Functional Testbench

NIST-compliant test vectors

Development and Test Environment (optional)

DPA Workstation

Implementation on reference FPGA board

Integrated testing framework

DPA Resistant AES Software Library:

Reference design source code with build scripts and test vectors for the reference (ARM-based) platform

Packaged libraries for a specific platform

Development and Test Environment (optional)

Hardware reference board for a specific platform

DPA Workstation

Specification sheet for DPA-resistant target level on a specific platform

Documentation for library usage

Cryptography Research software services

Analysis, development, integration, optimization, and support

Cryptography Research software support

Quarterly or semiannual bug fixes and enhancements

Periodic upgrades depending on customer priority

Optional Cryptography Research services

DPA and DPAWS training

Software testing: testing performed either by Cryptography Research or by customer after training from Cryptography Research
Applications
Aerospace and Defense

Content Protection

Mobile

Storage

Secure Communications

Automotive

Payments/Point-of-Sale

Internet of Things
Block Diagram of the DPA Resistant AES Core IP Core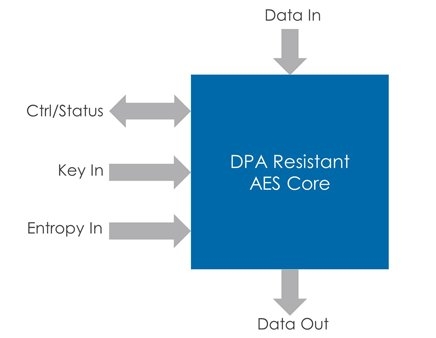 ---
View DPA Resistant AES Core full description to...
see the entire DPA Resistant AES Core datasheet
get in contact with DPA Resistant AES Core Supplier