You are here:
DSP Extention Superscalar Processor
D15/D15F are the first dual-issue superscalar AndesCore™ processors. Both processors feature over 130 compiler friendly, general purpose DSP and SIMD instructions that enable easy DSP algorithm programming in C/C++. D15/D15F comes with a variety of configuration options, including MMU, cache and local memory. The 64-bit data buses for caches, local memory and the main bus provide the bandwidth needed for instruction fetch and data access. D15F includes a built-in IEEE-754 compliant floating point unit that enhances the floating point processing capability. D15/D15F is designed for diversified performance-driven applications on the embedded Linux, Real-Time OS or bare metal environment.
Features
Dual-issue pipeline

> 130 DSP extension instructions

Caches for fast code and data accesses

Local Memories for deterministic code and data accesses

Built-in IEEE754-compliant FPU coprocessor (D15F)

Memory Management Unit (MMU) for Linux

64-bit AXI4/AHB/AHBx2 bus interface
Benefits
Performance

Dual-issue superscalar pipeline capable of processing two instructions in parallel to accelerate performance

Highly compact program size through AndeStar™ V3 ISA

Over 130 compiler friendly DSP and SIMD instructions and optimized DSP libraries to boost the performance of digital signal processing

Extensive branch predictions (BTB and RAS) to minimize branch hazards

Low latency local memory with DMA for transferring large bulk of 1D/2D data efficiently

MMU/MPU for memory management

Flexibility

All-C Embedded Programming

Stack protection hardware to detect runtime overflow errors as well as monitoring the maximum required stack sizes

Support boot-up from instruction local memory

Power Management

Low power modes initiated by either SW or HW

PowerBrake technology to digitally reduce peak power consumption

QuickNap™ automatic state management for fast power-off and wake-up.
Applications
Biometric devices

Wireless modem

Voice/speech recognition

Global Position System (GPS)

Unmanned Aerial Vehicle (UAV)

Sensor device/Sensor hub

Advanced motor control
Block Diagram of the DSP Extention Superscalar Processor IP Core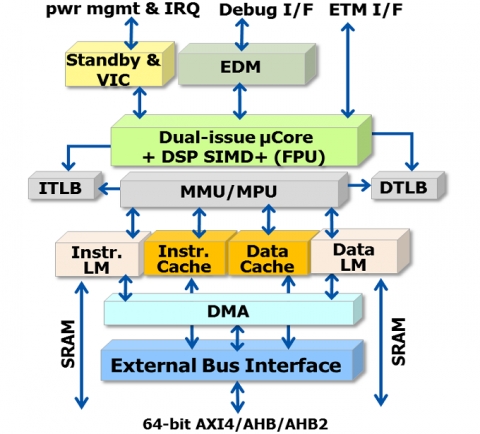 ---
View DSP Extention Superscalar Processor full description to...
see the entire DSP Extention Superscalar Processor datasheet
get in contact with DSP Extention Superscalar Processor Supplier