You are here:
Dual-Rail SRAM Globalfoundries 22FDX
Ultra-low voltage logic designs utilizing adaptive body biasing demand for dense SRAM solutions which fully integrates in the ABB aware implementation and sign-off flow of the Racyics® ABB platform solution. The Racyics® dual-rail SRAM supports ultra-low voltage core logic operation down to 0.40V while operating dense, low leakage standard bit cells from a 0.80V memory supply.
Features
Single port SRAM compiler based on P124 bitcell with Dual-supply-rail architecture

Bitcell array supply voltage 0.8V and ULV core interface down to 0.4V enabled with Racyics' ABB

Direct interfacing to ULV Racyics® ABB digital standard cell domains without additional level shifters

Fullset of characterization corners for -40°C to 125°C temperature range for Racyics® ABB aware timing and power sign-off

Full statistical LVF characterization for low voltage operation

Production test methodology available for ABB
Deliverables
Verilog simulation models

.libidb timing (NLDM, CCS, LVF) and power models

.lef layout abstract views

Milkyway database

GOSH layouts

LVS netlist
Block Diagram of the Dual-Rail SRAM Globalfoundries 22FDX IP Core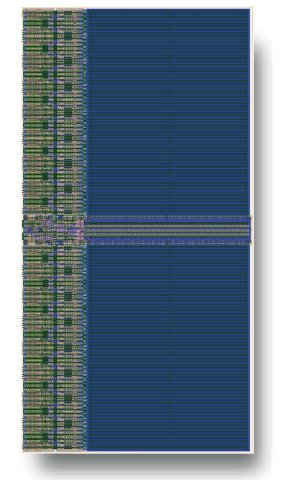 ---
View Dual-Rail SRAM Globalfoundries 22FDX full description to...
see the entire Dual-Rail SRAM Globalfoundries 22FDX datasheet
get in contact with Dual-Rail SRAM Globalfoundries 22FDX Supplier