You are here:
Dual Timer / Counter with Prescaler
Timer and counters are essential in CPU applications. Used to count events, measure time intervals or frequencies, or generate periodic timing events.
The TIMERmodule provides two independent 16-bit timers each with its own 16-bit pre-scaler. An additional pre-scaler is provided for applications where external high frequency events or clocks control the operation. The two timers can be locked for measurements over a given time span. Timer B provides the observation window while Timer A is counting events.
The operating mode of each timer can be selected independently:
- Free running: Timer is reloaded with initial value after counter reaches zero
- One-shot: Timer stops after reaching terminal count
- Window mode: Timer A counts while Timer B generates observation window
Each timer generates an interrupt upon arriving at terminal count zero. A count capture command is available to sample the current count state without interrupting the timer.


Features
Clock prescaler for external high frequency sources

Internal or external clock source select

Supports single-shot, free running and counter mode

Provides two 16-bit counter /timers with individual 16-bit prescalers

Two interrupt sources, one for each counter/timer

Individual counter capture commands

Supports synchronous bus interfaces such as AMBA APB version 2.0

Gate-count optimization

Configurable CPU readback path
Benefits
For gate-count optimization, the core can be configured to disable the configuration register read-back path. Synthesis options are included to use the core in 8, 16 and 32-bit systems. With a separate APB wrapper, the core can be used in ARM subsystems.
Deliverables
VHDL or Verilog RTL Source Code

Functional Testbench

Synthesys Script

Data Sheet

User Guide

Hotline Support by means of phone, fax and e-mail
Applications
Industrial control

CPU subsystems

System-on-Chip design

Watchdog or timing reference
Block Diagram of the Dual Timer / Counter with Prescaler IP Core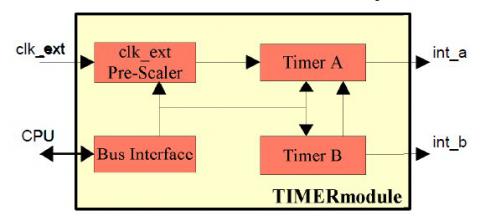 ---
View Dual Timer / Counter with Prescaler full description to...
see the entire Dual Timer / Counter with Prescaler datasheet
get in contact with Dual Timer / Counter with Prescaler Supplier