You are here:
DVB-CSA Scrambler
The MVD DVB-CSA Scrambler core allows to encrypt MPEG-TS stream using ETSI specified DVB Common Scrambling Algorithm (CSA2).
Features
Drop-in module for Spartan™-6, Virtex™-6, Artix™-7, Kintex™-7, Virtex™-7 FPGAs and Zynq™

DVB/ATSC compliant

Manage odd/even key encryption

Selection of up to 64 PIDs and 32 Keys at the same time (any PID can use any key)

Automatically update encryption flags of MPEG-TS packet header

Supports 188, 204 and 208 bytes packet input

Supports Data Packet or Data Burst format

DVB-CSA Scrambler does not include ECM/EMM packets insertion nor CAT modification (see remultiplexer core option for these features)

Full synthesizable RTL VHDL design (not delivered) for easy customization

Design delivered as Netlist
Applications
The MVD DVB-CSA Scrambler core can be used to encrypt MPEG-TS stream in order to broadcast it in a basic local network and gives access to the contents to only authorized user.
Block Diagram of the DVB-CSA Scrambler IP Core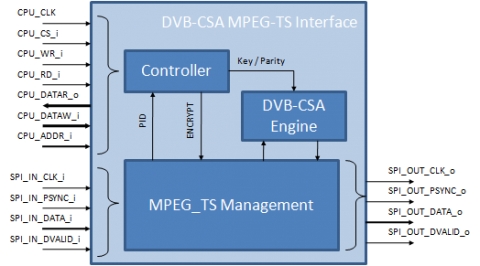 ---
View DVB-CSA Scrambler full description to...
see the entire DVB-CSA Scrambler datasheet
get in contact with DVB-CSA Scrambler Supplier