You are here:
DVB-T2 Modulator
The DVB-T2 core allows the transmission of an MPEG-TS data stream to a digital to analog converter in base band, IF or RF mode.
The core is DVB T2 (ETSI EN 302 755 V1.1.1) compliant and support most of the standard parameters settings.

The core was developed in RTL VHDL in order to be implemented in any kind of FPGA programmable logic components.

The MVD DVB-T2 modulator core is delivered for baseband output to be natively connected to AD9789 DAC from Analog Device but can be used in Intermediate Frequency application or in RF application when respectively connected to our UPSAMPLER or our UPCONVERTER core (for Analog Devices (AD9739A) or Maxim RF DACs (MAX5881))
Features
ETSI, DVB-T2 (EN 302 755 V1.1.1) compliant baseband transmitter for second generation Digital Terrestrial Television broadcasting system

Drop-in module for Spartan™-6, Virtex™-6, Artix™-7, Kintex™-7, Virtex™-7 FPGAs and Zynq™

Dual clock (1x,2x), DAC synchronized required

(up to 150 MHz for 1x Clock and for Kintex family)

Robust SPI input (discarding incorrect input packets)

PCR re-stamping

Single PLP

Single channel

-------- Signalization Channel:-------

Programmable BPSK, QPSK, 16-QAM and 64-QAM Symbol Mapping

Guard Interval (1/2)

-------- Data Channel (PLP): --------

TS data only

Normal Mode or High Efficiency Mode

PLP type 1 only

Programmable QPSK, 16-QAM, 64-QAM and 256-QAM Symbol Mapping

Constellation Rotation

OFDM modes (1K, 2K, 4K, 8K, 16K, 32K)

Extended Carrier mode

Guard Interval (1/4, 1/8, 1/16, 1/32 - 1/128, 19/128, 19/256)

Channel width from 5 MHz to 8 MHz

Baseband outputs (2 x 16 bits) @ Fsymbol rate

Fully synthesizable RTL VHDL design (not delivered) for easy customization

Design delivered as Netlist

MER > 40 dB
Deliverables
Datasheet

Netlist for core generation

VHDL top file

VHDL source code: can be delivered as an option under NDA and other specific clauses
Applications
The MVD DVB-T2 modulator may be used to broadcast a high rate stream (HD or 3D for example) or a multiplexed stream with many services.

The standard allows choosing from a strongly robust stream to a very high data bitrate stream.
Block Diagram of the DVB-T2 Modulator IP Core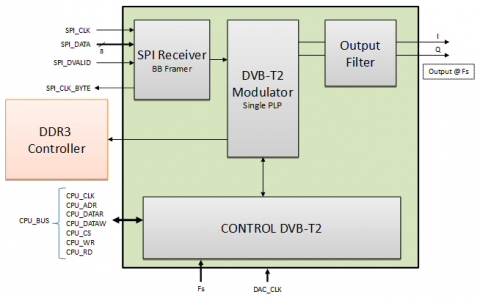 ---
View DVB-T2 Modulator full description to...
see the entire DVB-T2 Modulator datasheet
get in contact with DVB-T2 Modulator Supplier