You are here:
EdgeQAM IP Core Set (1 x RF Port, 160-Ch, ADI)
Developed in collaboration with Xilinx®, Inc., the RADX™ EdgeQAM IP Core Set is a modular, scalable set of Intellectual Property (IP) Cores that enable Cable Head-End OEMs and System Integrators (SIs) to rapidly develop and deploy high-performance, cost-effective and power-efficient J.83 Annex A/B/C EdgeQAM subsystems based on Xilinx 7 series FPGAs. For optimal compatibility and return on investment, the RADX EdgeQAM IP Core Set is designed to enable OEMs and SIs to meet CableLabs® CMAP™ and M-CMTS™ standards and to deliver up to six (6) RF ports per subsystem with up to 160 QAM Channels per RF port .

The RADX EdgeQAM IP Core Set consists of four (4) optimized IP modules which may be combined and tailored to meet a wide range of EdgeQAM CMTS requirements:

• Multi-Channel MPEG Transport Stream (MTS) Input Handling IP Core
• Multi-Channel J.83 Annex A/B/C IP Cores
• Multi-Channel Agile Digital Up Converter (DUC) IP Cores with support for Analog Devices® (ADI) and Maxim® DACs
• Digital Pre-Distortion (DPD) IP Cores for Maxim DACs (the IP Core Set is also compatible with ADI DPD IP Cores)
Features
Optimized for Performance and Power Efficiency

Deliver Maximum Channel Density per Device and Subsystem and Overall Best Value

Up to 160 QAM Channels per Full Spectrum RF Port per EdgeQAM IP Core Set

Multiple EdgeQAM IP Core Sets may be instantiated per FPGA or per subsystem with multiple FPGAs for increased channel capacity

Licensable in Netlist format (standard) or as a fully synthesizable VHDL source (option)

Compatible with Popular High Speed DACs:

Including Maxim MAX5882 & ADI AD9739A

Designed to be compatible with future DACs

Designed to Enable OEMs to Comply with Critical CMTS Standards and Specs:

J.83 Annex A/C & B [ITU-T J.83 (12/2007)]

MPEG Transport Stream Specs [ISO/IEC 13818-1]

CableLabs DRFI [CM-SP-DRFI-I10-100611]

IP Cores are Compatible with Select Elements of CableLabs DEPI [CM-SP-DEPI-I08-100611], DTI [CM-SP-DTI-I05-081209] and CMAP [CM-TR-CMAP-V01-10122]

RADX Reference System Support Model Ensures Optimal Customer Satisfaction:

Xilinx Virtex-7 and Kintex-7 FPGA Reference Systems Available in 2H12

Includes RADX MPEG Transport Stream Video Clip Server for Integration Ease and Acceptance

Required for Acceptance and Integration Support
Block Diagram of the EdgeQAM IP Core Set (1 x RF Port, 160-Ch, ADI)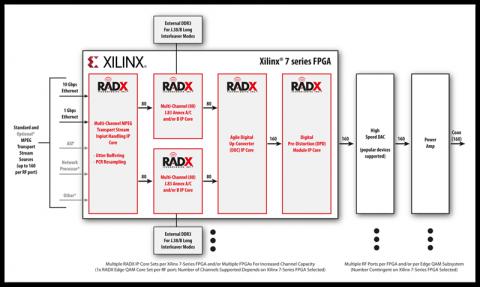 ---
View EdgeQAM IP Core Set (1 x RF Port, 160-Ch, ADI) full description to...
see the entire EdgeQAM IP Core Set (1 x RF Port, 160-Ch, ADI) datasheet
get in contact with EdgeQAM IP Core Set (1 x RF Port, 160-Ch, ADI) Supplier