You are here:
eFPGA IP - 100% third party standard cells
Menta offers pure digital embedded FPGA IP allowing fast, right-the-first time design and fast time to volume through design-adaptive third-party standard cells based architecture. The IP is delivered with Menta Origami state-of-the-art tool set. It provides the highest degree of design customization and best-in-class testability for SoC design targeting any production node at any foundry.

Menta eFPGA IP Cores are organized in families based on the number of Logic Cells (LC)avalaible: Small for 12 to 2K LC, Medium for 2K to 6K LC, Large for 6K to 60K LC and eXtra Large for 60K to 200K LC.
Features
Every element of the eFPGA can be defined in numbers: logic cells, MAC, CDSP, RAM (type and amount) and IOs.

In addition, Menta eFPGA IP Cores being 100% standard cells based, multiple power / performances trade-off can be achieved based on customer requirements.

The eFPGA IP Cores are provided as hard IPs (GDSII). Other models are possible, contact us for more information.

Menta eFPGA IP Cores use standard cells, and as such integrate smoothly into any standard ASIC design flow. Designers use RTL as the input to our software Origami Programmer to generate the eFPGA program file (bitstream) and obtain accurate performance evaluation.
Benefits
HIGHLY DESIGN ADAPTIVE IP

- Support of any technology node, foundry and process option

- High LUTs density

- Support of any kind of arithmetic block right within the IP

- Support of any type and amount of memories, right within the IP

- Specific IP specification software available to help defiing the perfect IP for customer SoC and application (Origami Designer)

- ASIC like options: power management

- Can be rad-hard by design

EASIEST SOC INTEGRATION

- No specific interface

- Highest yield and reliability

- Best testability and cost (TC & FC of 99.7%+). Standard scan chain

- Best and simplest verification flow

- No change in customer EDA flow. No extra software required

BEST USABILITY

- State of the art programming software (Origami Programmer)

- Several distribution models possible

- No export restrictions
Deliverables
- Origami Programmer software

- GDSII and all files necessary for integration, verification, simulation and test

- Datasheets, documention
Applications
eFPGA IPs offer tremendous advantages for a wide range of markets and applications.

Aerospace & Defence

- Cryptography

- Motor Controls

- Adaptive Data conversion

- Avoid trojan/hacking at Foundry

etc.

Automotive

- Autonomous driving - AI for vision applications

- Security algorithms over lifetime

- Checker and voting logic for lock-steps mode

- Motor controls

- Battery monitoring systems

etc.

HPC / Networking / 5G

- AI learning accelerator

- Cryptography accelerators

- 5G base stations evolving standards

- Post production customizable CPU

- SSD controller

- Risk reduction

etc.

IoT / IIoT

- AI inference at the edge

- System time to market and cost reduction

- Reduction of variants

etc.
Block Diagram of the eFPGA IP - 100% third party standard cells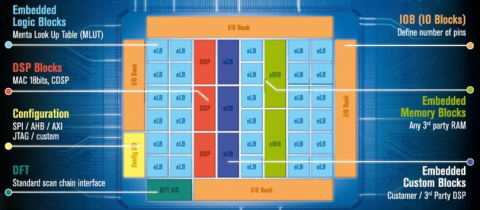 ---
View eFPGA IP - 100% third party standard cells full description to...
see the entire eFPGA IP - 100% third party standard cells datasheet
get in contact with eFPGA IP - 100% third party standard cells Supplier