You are here:
Elliptic Curve Accelerator
The Cerberus Elliptic Curve Cryptography (ECC) accelerator is a configurable hardware IP core capable of delivering high speed elliptic curve point arithmetic over any prime field. It is thus compatible with all NIST prime curves as well as other prime field alternatives such as the Brainpool family. It may be used for encryption, decryption, signing and verification operations and in the implementation of common EC standards such as ECDSA and ECDH.
Features
Operation over any prime field GF(p)

ECDSA, EdDSA and ECDH functionality

EC arithmetic operations: addition, doubling and scalar multiplication with any key size up to the configured limit

Built-in side channel countermeasures for resistance against timing attacks, doubling attacks and power analysis (SPA/SEMA and DPA/DEMA)

Suitable for both FPGA and ASIC implementation
Benefits
Firmware upgradable to meet future standards

Host processor offload
Deliverables
Synthesizable Verilog source code

Portable driver and example software

Verilog testbench (self-checking)

User Documentation
Applications
TLS and IPsec acceleration

VPN acceleration

Firmware update and secure boot validation

E-commerce

Mobile platform

HSM
Block Diagram of the Elliptic Curve Accelerator IP Core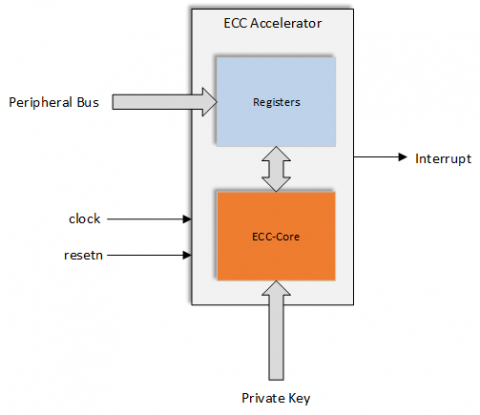 ---
View Elliptic Curve Accelerator full description to...
see the entire Elliptic Curve Accelerator datasheet
get in contact with Elliptic Curve Accelerator Supplier