You are here:
Embedded FPGA
Speedcore eFPGA IP brings the power and flexibility of programmable logic to ASICs and SoCs. Customers specify their logic, RAM, MLP and DSP resource needs, then Achronix configures the Speedcore IP to meet their individual requirements. Speedcore look-up-tables (LUTs), RAM, MLP and DSP64 blocks can be assembled like building blocks to create the optimal programmable fabric for any given application. A personalized version of the ACE design tools to program the Speedcore IP is included with the Speedcore IP delivery.

Speedcore eFPGA technology has been in production and shipping to end customers since 2016. Achronix's customers include some of largest technology companies in the world. These companies have recognized that Speedcore IP is disruptive technology that allows them to dramatically increase the overall performance of their systems.
Features
Speedcore™ Embedded FPGA (eFPGA) IP – The only eFPGA technology shipping in high-volume production applications:

Customer-defined eFPGA resource counts for logic, embedded memory blocks, MLP and DSP blocks

Logic – 6-input look-up-tables (LUTs) plus integrated wide MUX functions and fast adders

Logic RAM – 2 kb per memory block for LRAM2k, and 4kb per memory block for LRAM4k

Block RAM – 72 kb per memory block for BRAM72k, and 20kb per memory block for BRAM20k

DSP64 – 18 × 27 multiplier, 64-bit accumulator and 27-bit pre-adder per block

Machine learning processors (MLP) – 32 multiplier/ accumulators (MACs) per block, supporting integer and floating point formats

Achronix delivers the eFPGA IP as a hard macro in GDSII format.

Speedcore IP is available on the following process technology nodes:

TSMC 16FF+

TSMC 7nm FinFET

TSMC 12FFC under development

Speedcore IP can be ported to other process nodes

Speedcore performance:

Max: 750 MHz

Typical: 300 MHz to 500 MHz

Lowest latency interface:

One stage of latency between a Speedcore instance and the host SoC

Support for zero-latency interfaces

Speedcore IP supported by Achronix ACE design tools:

Full-featured tools to synthesize, place, route and optimize performance for RTL targeting a Speedcore eFPGA

Includes Synplify Pro for synthesis

Easy evaluation:

Benchmark designs using Achronix ACE design tools

Verify functionality using the VectorPath™ accelerator card
Benefits
75% lower power

90% lower cost

100× lower latency

10× higher bandwidth
Block Diagram of the Embedded FPGA IP Core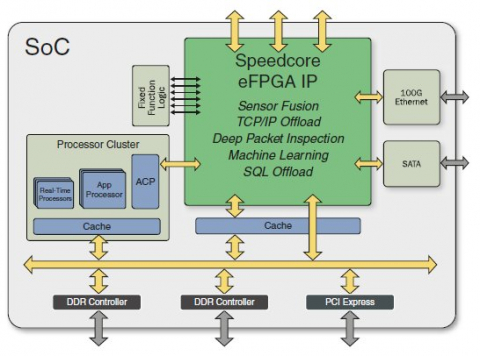 Video Demo of the Embedded FPGA IP Core
---
View Embedded FPGA full description to...
see the entire Embedded FPGA datasheet
get in contact with Embedded FPGA Supplier