You are here:
Embedded FPGA
Speedcore eFPGA IP brings the power and flexibility of programmable logic to ASICs and SoCs. Customers specify their logic, RAM, MLP and DSP resource needs, then Achronix configures the Speedcore IP to meet their individual requirements. Speedcore look-up-tables (LUTs), RAM, MLP and DSP64 blocks can be assembled like building blocks to create the optimal programmable fabric for any given application. A personalized version of the ACE design tools to program the Speedcore IP is included with the Speedcore IP delivery.

Speedcore eFPGA technology has been in production and shipping to end customers since 2016. Achronix's customers include some of largest technology companies in the world. These companies have recognized that Speedcore IP is disruptive technology that allows them to dramatically increase the overall performance of their systems.
---
View Embedded FPGA full description to...
see the entire Embedded FPGA datasheet
get in contact with Embedded FPGA Supplier
Block Diagram of the Embedded FPGA IP Core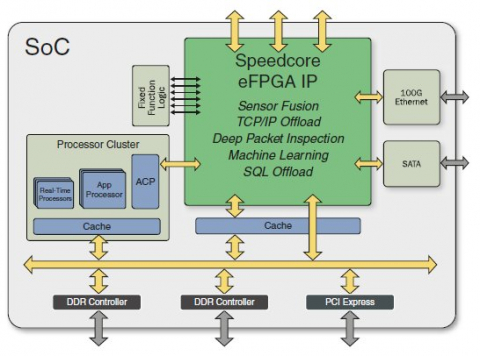 Video Demo of the Embedded FPGA IP Core