You are here:
Energy efficient, small footprint, 32 bit microcontroller core
The APS3R is an ultra low power, low interrupt latency, silicon efficient 32 bit microcontroller core designed to efficiently run high level languages such as C and C++. Ideal for applications requiring energy efficiency yet high performance such as wireless communications, sensing, SIM cards, touchscreen controllers and security applications. The APS3R has a very small silicon footprint, from 8700 gates, and ultra low power consumption. This offers industry leading performance in terms of both DMIPS/uW and DMIPS/mm2.
Features
Energy Efficient RISC Core

Harvard architecture

2.76 DMIPS/MHz

3-stage pipeline

Low Power

Good Code Density

High Clock Frequency (> 300MHz in 90nm)

Integer Multiplier (sequential or parallel)

Up to 250 Low Latency Vectored Interrupts

Dual-core Capable
Benefits
Good performance CPU

Tiny silicon footprint, less slicon area

Low Power, longer battery life

Good Code Density, less Flash memory required

High maximum clock frequency, more performance, more time sleeping

Dual-Core Capable, more performance without exploding consumption

RTOS support: FreeRTOS, uCLinux, uC/OS II, uC/OSIII, TargetOS

Full Development Environment

Optional standard peripherals (counter, timers, watchdog, GPIO, I2C, SPI & UARTs)

Optional Ethernet 10/100 MAC and USB2.0 Peripheral

Optional JTAG-Ethernet Debug Solution
Deliverables
Full Verilog Source Code

Full Toolchain

Graphical Development Environment

Debugger

Standard Peripherals

Full Documentation

Complete Integration Guide
Applications
Wireless e.g. Bluetooth or Bluetooth LE

Smart metering

Security applications

Internet of Things (IoT)

Touchscreen controllers for smartphones and tablets

Smart cards
Block Diagram of the Energy efficient, small footprint, 32 bit microcontroller core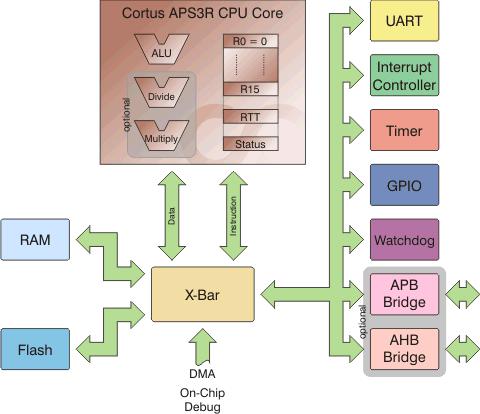 ---
View Energy efficient, small footprint, 32 bit microcontroller core full description to...
see the entire Energy efficient, small footprint, 32 bit microcontroller core datasheet
get in contact with Energy efficient, small footprint, 32 bit microcontroller core Supplier