You are here:
Ethernet 10G KR Serdes
The VHT1T28KR10 is an enhanced multi-lane 10G Ethernet Hard macro that is compatible with data transfer capabilities up to 10Gbps(10GBASEKR) and XAUI. It is designed with a standard multilane interface to the core side. It has the added advantage of not requiring an external resistor, hence saving area at the system level and a pin at the chip level.
Features
Quad Channel Multi Lane Macro

Integrated backplane PCS, PMA layer

High-Speed Data Transfer

Support for Link Training, FEC, Auto-Negotiation

High performance system interface

SDR XGMII interfaces to 1G/10G Transmit De-emphasis and Receive Adaptive Equalization

Supported Lane widths of x1, x2, x4

Encoding standards: 64b/66b

Simple configuration interface

Small register configuration space

Simple interface, can be easily connected to a standard APB bus, or similar

Minimal setup, with automatic start-up when reset is de-asserted

On-Chip IO ring compatibility

Small footprint

Flip-Chip packaging

Clocking

Multiple clocking options with external reference clock or internal clock for debug

Extensive Test and Debug Features

Virtual Eye generation

Loopback Serial and parallel

Scan

JTAG, IEEE 1149.1

Serial Debug

Embedded TAP controller

Configurability

Programmable lane enable/disable

Choice of macros pre-configured for 1 to 4 lanes

Low Power
Block Diagram of the Ethernet 10G KR Serdes IP Core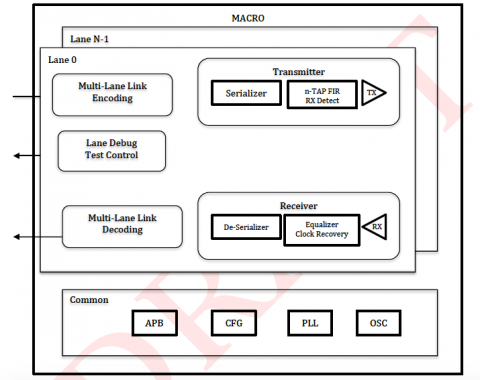 ---
View Ethernet 10G KR Serdes full description to...
see the entire Ethernet 10G KR Serdes datasheet
get in contact with Ethernet 10G KR Serdes Supplier