You are here:
eUSB Repeater
CT20603 IP implements a dual-role capable eUSB2 repeater enabling an eUSB2 PHY in SOCs to support connections with USB2.0 compliant hosts and peripherals (hubs, HDDs and SDDs, …). It works with an eUSB2 PHY in SOCs in order to support Host, Peripheral or Dual Role Repeater modes. This enables communication between SOCs realized in highly scaled LV processes lacking 3.3V support with the plethora of standard USB2.0 devices.
Packets are forwarded between eD+/eD- and D+/D- preserving timings required by the eUSB2 and USB2.0 specifications.
The analog blocks of the CT20603 implement a half-duplex non-linear redriver, controlled by a two-level state machine that handles Port Reset and Repeater Configuration.

Features
eUSB2 Repeater

Compliant to USB2.0 Specifications and eUSB2 PHY Supplement

USB2.0 low-speed, full-speed and high-speed support

Enables out-of-the-box-USB2.0 connectivity to eUSB2 capable devices realized in highly scaled LV processes

Dual role capable: can be configured either as host repeater or a peripheral repeater
Applications
Intra-System USB communication

Handheld devices

Interface to mass-storage devices
Block Diagram of the eUSB Repeater IP Core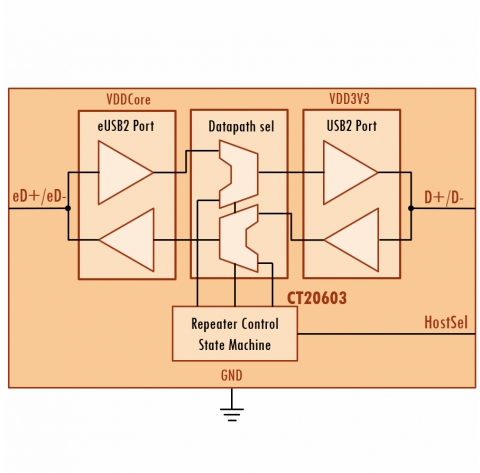 ---
View eUSB Repeater full description to...
see the entire eUSB Repeater datasheet
get in contact with eUSB Repeater Supplier