You are here:
Extended Range Incremental Sigma Delta ADC
The AXIOM_ERISD_ADC_1MS16b is an extended range incremental sigma delta (ER-I-SD) converter. The hybrid ADC is a combination of two sub-converters, a 4-bit incremental sigma delta (I-SD) and a 12-bit SAR converter. It provides both speed and precision simultaneously with low power consumption.

The IP reduces the required sampling time (one order of magnitude) compared to the other industrially and academically reported ER-I-SD converters. This makes the IP suitable for applications where the input is available only for a short period of time, for example IR sensor arrays.

The built-in offset cancellation subtracts a deterministic offset voltage from the input signal. This function is suitable for cancelling the inherent offset of the IR sensors.

The AXIOM_ERISD_ADC_1MS16b has a built-in variable gain amplifier (VGA) to provide selectable gains from 0 to 20 dB in 1 dB steps. This function provides 3-bit extension to the non-simultaneous dynamic range of the converter.

The chip is functional in a wide temperature range from -223 °C to 85 °C. Therefore the ADC is suitable from commercial to space applications.
Features
Sample-rate up to 350 MS/s

Sample-rate: 1 MSPS

Power consumption: 16 mW

Single-ended input

Output: 16-bit data

4-bit MSB from I-SD

12-bit LSB from SAR

>14 ENOB

>86 dB SFDR (incl. THD)

Built-in VGA: selectable from 0 dB to 20 dB voltage gain (in 1 dB steps)

Area: 2 mm2

Technology: UMC 180nm

Temperature range from -223 °C to 85 °C

Designed for radiation hardening

Silicon proven
Applications
Low-power, fast/precise data conversion

Pixel array read-out and data conversion

Wide temperature range applications

Selectable dynamic range applications
Block Diagram of the Extended Range Incremental Sigma Delta ADC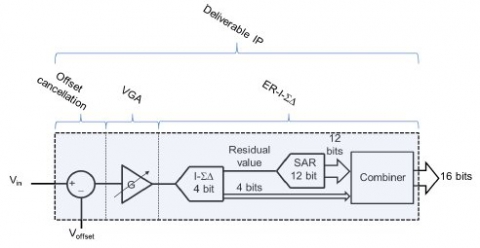 ---
View Extended Range Incremental Sigma Delta ADC full description to...
see the entire Extended Range Incremental Sigma Delta ADC datasheet
get in contact with Extended Range Incremental Sigma Delta ADC Supplier