You are here:
FCRAM I Controller
Fast Cycle RAM (FCRAM) is a DRAM technology with a specialized memory core technology that achieves faster random access times and offers lower power consumption than traditional DRAMs. FCRAM is a trademark of Fujitsu Ltd., Japan. As faster applications emerge in the networking and communications markets, there is a need for higher performance memories to meet the architectural requirements of these emerging applications. FCRAM memory technology addresses the needs of some of these emerging applications. For applications that require DRAM densities with random cycle performance approaching SRAM speeds, FCRAM provides a cost effective solution.

Lattice's FCRAM I controller core provides a simple and flexible solution to interfacing different FCRAM I memories to user application logic. On the memory side, the FCRAM I controller core interfaces to FCRAM I data bus widths with (configurable) 8 or 16 bit DDR memory interfaces. On the user side the core provides a simple command interface that accepts read, write, and refresh commands. The core interfaces to 256 Mbit FCRAM I devices (speed grades -60/CAS latency 3 and 4 and -55/CAS latency 3).
Features
Supports 8- and 16-Bit FCRAM I DDR Data Interfaces

Supports Parameterizeable Burst Lengths of 2 and 4

Supports Parameterizeable CAS Latencies of 3 or 4

Supports Controller Initiated Auto-refresh or User-initiated Auto/Self-refresh

Built-in Initialization Sequence Automatically Programs the FCRAM I with User Settings

Supports Bi-directional DDR Interface Between the Controller and FCRAM I (DQ and DQS)

Supports a Target FCRAM I DDR Interface Frequency of 156 to 167MHz in a LatticeEC&trade or LatticeECP&trade Device
Block Diagram of the FCRAM I Controller IP Core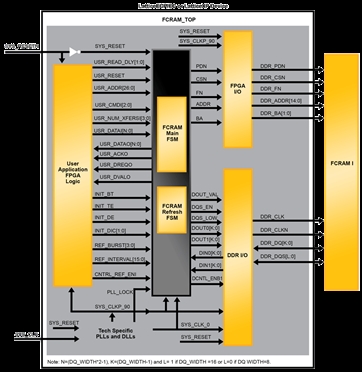 ---
View FCRAM I Controller full description to...
see the entire FCRAM I Controller datasheet
get in contact with FCRAM I Controller Supplier