You are here:
FlexE 2.1/2.0/1.1/1.0 SHIM Core
The Alphawave FlexE SHIM IP core (FlexE SHIM) is cutting edge solution to the Ethernet application. It integrates seamlessly with Alphawave s MC MAC Core and provides a total multi-channel MAC and FlexE solution for data center connectivity. The FlexE SHIM IP Core supports the OIF FlexE 2.1/2.0 /1.1/ 1.0 layer functions.

The FlexE SHIM Core supports 25G or 5G bandwidth/subcalendar slot increment each as per 100G FlexE instance as specified in standard FlexE 2.1/2.0/1.1 / 1.0 implementation agreement. Our FlexE 2.0 SHIM Core is extendable for 200GE and 400GE to support the next generation higher rate PCS with 25G calendar slot.

Through our proprietary Super FlexE Extension, our FlexE SHIM Core also supports 1G, 1.25G and 2.5G calendar slots. Lower than 5G calendar slot is only available for 100GE and below.
---
View FlexE 2.1/2.0/1.1/1.0 SHIM Core full description to...
see the entire FlexE 2.1/2.0/1.1/1.0 SHIM Core datasheet
get in contact with FlexE 2.1/2.0/1.1/1.0 SHIM Core Supplier
Block Diagram of the FlexE 2.1/2.0/1.1/1.0 SHIM Core IP Core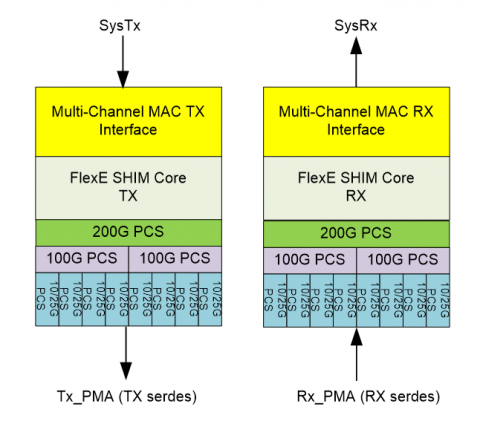 FlexE 2.1/2.0/1.1/1.0 SHIM Core IP